It was a great week for volatility sellers in the option market for the expiration 23-Dec-2016.
Ahead of the Christmas holiday, which saw the market closed on Monday, there was little incentive to take large positions. The last several weeks have seen a Trump rally, but news flow was light in the pre-holiday week and traders saw no reason to either substantially extend the gains or attempt any sizable profit taking.
The major averages edged up slightly for the week as a whole. The S&P 500 advanced by +0.3%, while the Dow and the Nasdaq both climbed by +0.5%. While there were very modest gains for the overall stock market, in the options market, puts slightly outperformed calls, though only in the sense that they lost less often.
It was a tough market for volatility buyers to pick winners across the board. Unhedged ATM Straddles returned winners just 22% of the time during the week. However, this still outperformed either calls or puts.
Unhedged 25-Delta Puts were winners only 13.3% of the time, while unhedged 25-Delta Calls turned in gains a paltry 6.4% of the time.
Standouts
Twitter ($TWTR) lost significant ground during the week following the announcement that its Chief Technology Officer was leaving the company. Adam Messinger, Twitter's CTO, announced in a tweet late Tuesday that he is leaving the company. "After 5 years I've decided to leave Twitter and take some time off," Messinger said. This prompted a notable sell off on Wednesday that continued into Thursday. Unhedged ATM Straddles for TWTR had an average return of +199.3% for the week. Unhedged 25-Delta Puts returned an average of +903.3%.
Nvidia ($NVDA) climbed steadily through the week, adding to recent strength. The stock gained $2.67 to $109.78 on Friday, marking its ninth straight day of gains and extending its 52-week high. After reaching a 52-week low of $24.75 in February, shares of the graphics chip maker climbed steadily through 2016. RBC Capital Markets recently named the stock one its top picks for 2017, along with Apple ($AAPL) and Broadcom ($AVGO). Unhedged ATM Straddles for NVDA returned an average of +144.8% during the week. Unhedged 25-Delta Calls returned an average of +639.5%.
Hedging Comparison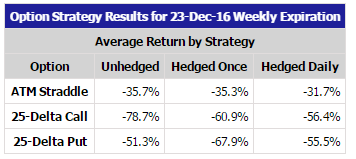 In general, there wasn't much benefit to hedging during the week. It saved some losses on the call side, but for puts, it only made matters worse. It was a very slight benefit for ATM Straddles.
Unhedged ATM Straddles had an average loss of -35.7%, compared to -35.3% for once-hedged positions and -31.7% for daily hedging.
For 25-Delta Calls, unhedged positions had an average loss of -78.7%. This improved with once-hedged positions, but that strategy still had a negative return of an average -60.9%. Daily hedging took this to -56.4%.
Unhedged 25-Delta Puts had an average loss of -51.3% for unhedged positions. This got worse with hedging, turning into -67.9% for once-hedged positions. Daily hedging wasn't quite that bad, though it remained a larger loser, on average, than unhedged positions. Daily-hedged 25-Delta Puts had an average loss of -55.5%.