The USD/JPY has been consolidating for a good part of June as we can see in the 4H chart. As we start the Monday session (6/29) to this week, it looks to be cracking the consolidation support at 122.40. 

USD/JPY 4H Chart 6/29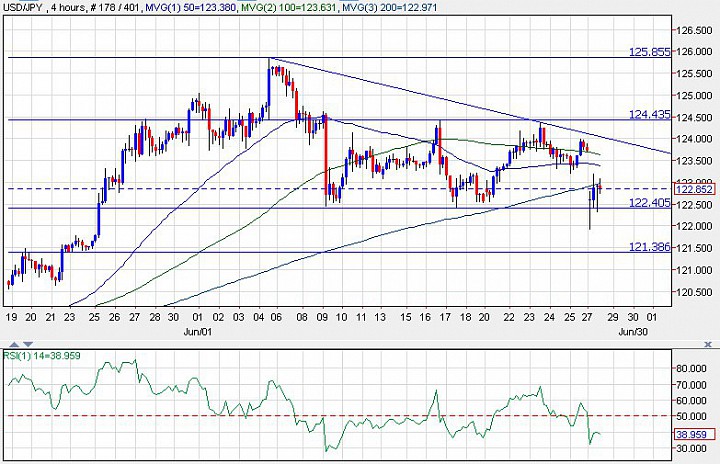 (click to enlarge)

In the 4H chart, we can see that price retreated from a June-high of 125.85 and was holding above 122.40 since the 9th. Today's break below 122.40 is not very convincing yet neither. There was no 4H candle that closed below 122.40, and the price action has so far indicated buying around this area, which can be expected since it has been a support area. 

Now, if price rebounds but fails to push back above 123.50, the cracked support would indeed be vulnerable, and there would be short-term downside risk towards the 121.40 area, where a previous support/resistance pivot resides. 

A break above 124.00 however would confirm that the current breakout below 122.40 is a false breakout. A false breakout would likely translate to a bullish breakout, so the 124.43 resistance would become vulnerable. Therefore, the 125.00 handle and the 125.85 high would then come into play above the 124.00 handle.