Today, we got the US NFP early because the US markets will observe Independence Day (July 4) on Friday (July 3). 

US NFP Employment Change (June): 223K
Forecast: 231K
Previous (May): 254K (revised from 280K)
Unemployment Rate (June): 5.3%
Forecast: 5.4%
Previous: 5.5%

Average Hourly Earnings m/m (June) 0.0%
Forecast: 0.2%
Previous: 0.2% (revised from 0.3%)

Jobless Claims (most recent week): 281K
Forecast: 270K
Previous Week: 271K

We also saw Factory orders data come in at -1.0% on the month for May. Forecasts called for a -0.5% reading. The April reading was revised down to -0.7% from -0.4%)

As you can see, the data set today were mostly disappointing. They are not very encouraging of a rate hike this year. The hourly earnings data was probably most damaging to the rate hike prospect.

The USD lost its steam:

USDX 4H Chart 7/2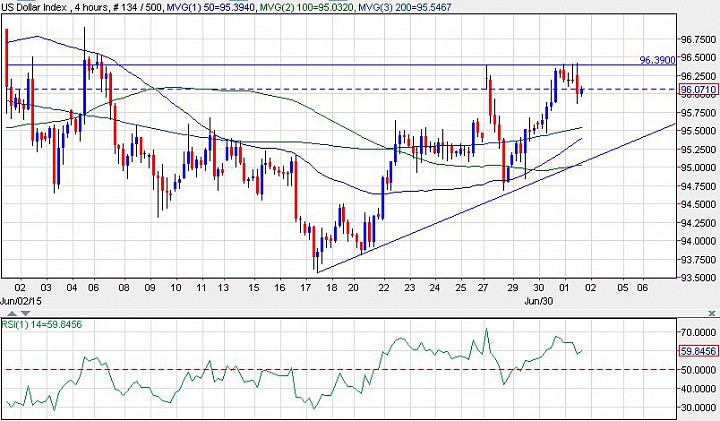 (click to enlarge)
The 4H chart shows that the market has been bullish in the past couple of weeks (including this one). However, after the US data, we saw price fall from he 96.40 high of this week. There is a bearish divergence with the RSI, and the latest bearish 4H candle was an engulfing one. 

This reaction puts the 95.25-95.50 area in sight. If the market is still bullish, we should see support here, especially since there is a rising trendline around this area.If price can close the week above 95.50, the focus will still be on the 96.40 high. A break above 96.50 next week would be a strong bullish continuation signal. This would put at least the 97.77 May-June-high in sight, with upside risk towards the 100.00 handle. 

A break below 95.00 on the other hand will likely reflect a bearish outlook for the USD, which means we are likely to see further rallies in EUR/USD and GBP/USD, while the USD/JPY stalls or falls, at least in the first couple weeks of July.