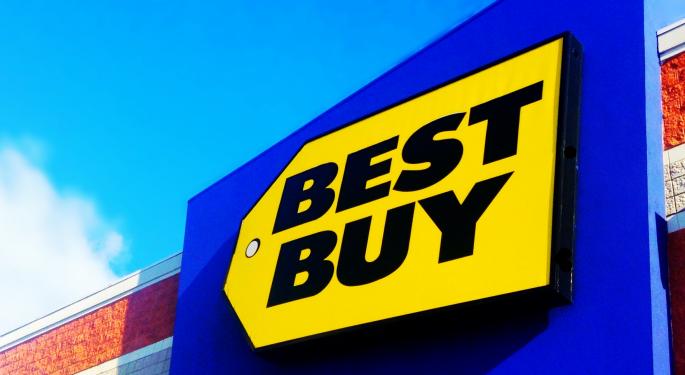 Best Buy Co Inc BBY products, on an average, are 2.3 percent more expensive than on Amazon.com, Inc. AMZN, with televisions being the most competitive product category, according to a study by Loop Capital.
The study found that Best Buy's prices are more expensive than Amazon's on 76 percent of the items, less expensive on 4 percent, and the same on 20 percent.
"That said, Best Buy's prices are less than 1% higher than Amazon's or better on 68% of the items in our market basket," analyst Anthony Chukumba wrote in a note.
Further, the study finds Best Buy's prices are largely in line with Amazon's, which the brokerage believes bodes well heading into the peak final days of the holiday selling season.
"Best Buy's prices are the most competitive with Amazon we can remember, which we believe should enable the company to continue to gain market share," Chukumba highlighted.
In particular, the analyst is encouraged by Best Buy's competitive accessories prices.
Loop Capital compared Best Buy's prices to Amazon's on 50 items across five product categories: televisions, notebook and tablet PCs, home theater, wearables and accessories.
Meanwhile, Chukumba maintained his $0.07-above-consensus* fourth-quarter diluted EPS estimate, reiterated his Buy rating and reiterated his $58 price target on Best Buy shares.
Shares of Best Buy closed Thursday at $48.16.
*Seven cents above the consensus' figure, not to be misinterpreted as the estimate from Loop is $0.07.
Date
Firm
Action
From
To
Nov 2016
Citigroup
Maintains
Buy
Nov 2016
Citigroup
Maintains
Buy
Nov 2016
Axiom Capital
Maintains
Buy
© 2016 Benzinga.com. Benzinga does not provide investment advice. All rights reserved.