A month has gone by since the last earnings report for PPG Industries, Inc. PPG. Shares have lost about 1.9% in that time frame, outperforming the market.
Will the recent negative trend continue leading up to its next earnings release, or is PPG due for a breakout? Before we dive into how investors and analysts have reacted of late, let's take a quick look at its most recent earnings report in order to get a better handle on the important catalysts.
PPG Industries Beats Q4 Earnings & Sales Estimates

PPG Industries reported net earnings from continuing operations of $184 million or 72 cents per share for fourth-quarter 2017, a roughly two-fold increase from the year-ago figure of $91 million or 34 cents. Adjusted earnings were $1.19 per share that surpassed the Zacks Consensus Estimate of $1.18.

Net sales increased 7.8% year over year to $3,682 million, beating the Zacks Consensus Estimate of $3,605 million. Favorable currency swings positively impacted net sales by more than 3%.

FY17 Results

For full-year 2017, the company posted profits from continuing operations of $1.4 billion, or $5.46 per share, up from $547 million, or $2.05 per share, reported in 2016. Adjusted earnings for the year came in at $5.87 per share, up 3.5% from $5.67 reported a year ago.

PPG Industries reported revenues of $14.8 billion in 2017, up around 3.4% from $14.3 billion reported in 2016. While favorable foreign currency translation positively impacted sales by less than 1% and acquisitions related sales improved more than 1%.

Segment Review

Performance Coatings: The segment recorded $2.1 billion in sales and income of $260 million in the fourth quarter. Sales grew 7.3% year over year. Favorable currency translation increased segment sales by more than 3%.

Segment income rose 8.8% year over year driven by the impact of increased sales volumes, overhead and manufacturing cost management and better selling prices, partly offset by significant raw material inflation. Architectural coatings — America and Asia Pacific sales volumes increased by low single-digit clip year over year. Protective and marine coatings sales volumes were flat year over year

Industrial Coatings: Sales at the segment were $1.6 billion, up roughly 8.4% from the prior-year period. Total sales volume rose by more than 4%. Acquisition-related sales provided benefits of $27 million.

Net income at the segment was $212 million, down 10.2% year over year as cost improvements and strong sales volume gains was offset by significant raw material inflation and slightly reduced selling price. Favorable currency swings increased segment income by $6 million.

Financial Position

PPG Industries ended 2017 with cash and cash equivalents of $1,436 million, down 21.1% year over year. Long-term debt rose 9.2% year over year to $4,134 million.

Outlook

PPG Industries anticipates additional selling price increases this year. The company is committed towards deploying at least $2.4 billion of cash in 2018 backed by acquisitions and share repurchases as part of its earlier communicated goal of deploying $3.5 billion in 2017 and 2018 combined. The company expects its effective tax rate to be in the range of 23-24% for 2018.
How Have Estimates Been Moving Since Then?
In the past month, investors have witnessed an upward trend in fresh estimates. There has been one revision higher for the current quarter
PPG Industries, Inc. Price and Consensus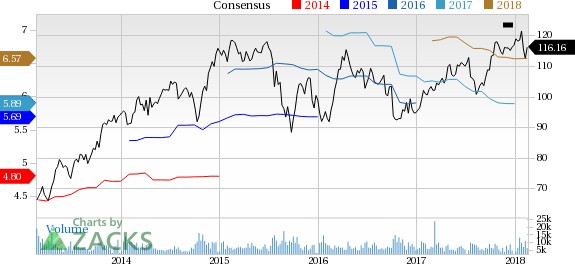 PPG Industries, Inc. Price and Consensus | PPG Industries, Inc. Quote
VGM Scores
At this time, PPG has a subpar Growth Score of D, though it is lagging a bit on the momentum front with an F. The stock was allocated a grade of B on the value side, putting it in the second quintile for this investment strategy.
Overall, the stock has an aggregate VGM Score of C. If you aren't focused on one strategy, this score is the one you should be interested in.
The company's stock is suitable solely for value investors based on our style scores.
Outlook
While estimates have been broadly trending upward for the stock, the magnitude of these revisions has been net zero. Notably, PPG has a Zacks Rank #3 (Hold). We expect in-line returns from the stock in the next few months.
Want the latest recommendations from Zacks Investment Research? Today, you can download 7 Best Stocks for the Next 30 Days.
Click to get this free report
PPG Industries, Inc. (PPG): Free Stock Analysis Report
To read this article on Zacks.com click here.
Zacks Investment Research