Bubble Wrap, the packaging material popular with shippers and toddlers alike, is losing its pop.
Sealed Air Corp., the original seller of Bubble Wrap since 1960, is rolling out a revamped version of its signature product. Dubbed iBubble Wrap, the new packaging is sold in flat plastic sheets that the shipper fills with air using a custom-made pump. The inflated bubbles look much like traditional Bubble Wrap, with one key difference: They don't burst when pressure is applied.
Charlotte N.C.-based Sealed Air is betting iBubble Wrap will appeal to space-conscious online retailers who are driving swift growth in the global packaging business, even as fans are disappointed by the lack of pop. Traditional Bubble Wrap ships in giant, pre-inflated rolls, taking up precious room in delivery trucks and on customers' warehouse floors. One roll of the new iBubble Wrap uses roughly one-fiftieth as much space before it's inflated.
Though an afterthought for consumers, protective packaging is big business: World-wide sales hit $20 billion in 2013, the most recent data available, according to Freedonia Group, a research firm.
An increasing number of products and components are shipped around the world as manufacturing has become more global. Retailers like Amazon.com Inc. and Target Corp. are constantly experimenting with new types of packaging as they look for ways to undercut rivals to offer cheaper, faster shipping, all while ensuring products reach their destinations unscathed.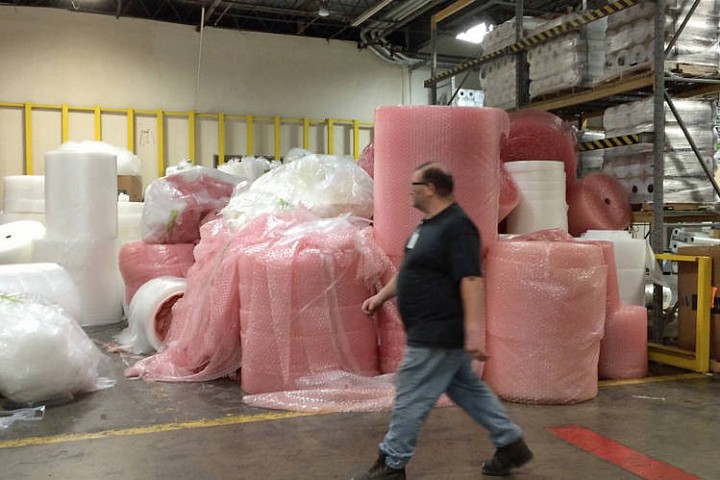 Manufacturers have responded by offering an ever-growing variety of packing materials. Bubble packaging and air pillows remain the favored form of protection for e-commerce orders. Sealed Air says its best seller is liquid foam, and it is experimenting with a combination of agricultural byproducts and mushroom roots that grow and conform to the...
More