Waste management firm Stericycle, Inc. SRCL is scheduled to report fourth-quarter 2017 results after the closing bell on Feb 21. The company is likely to report lower revenues in Regulated Waste and Compliance Services segment that accounts for more than half of total revenues, due to stiff industry-wide competition.

Whether this will lead to lower earnings in the to-be-reported quarter remains to be seen.

Top-Line Woes

Stericycle operates in a highly-competitive market. The barriers to entry into the regulated waste collection and disposal business and the pharmaceutical returns business are very low. Competitors also resort to aggressive pricing to gain market share. In the past, the company was forced to reduce prices for large-quantity account (hospitals, blood banks and pharmaceutical manufacturers) customers due to competitive pressure. This trend is likely to have continued this quarter as well.

Moreover, the Healthcare Reform Act might have a material adverse effect in the to-be-reported quarter. In addition, customers have also joined Group Purchasing Organizations and Integrated Delivery Networks to reduce costs through economies of scale. Changing regulations further impose new compliance requirements on Stericycle, alter its current method of doing business, and ultimately increase costs and compress margins. All these are likely to reduce the profitability of the company and impact earnings.

The Zacks Consensus Estimate for Regulated Waste and Compliance Services segment revenues is currently pegged at $495 million, down from $512.7 million reported in the year-ago quarter. Revenues from the Manufacturing and Industrial Services segment are anticipated to decrease to $87 million from $96 million in the year-earlier quarter. However, revenues from the Secure Information Destruction Services segment are expected to be $204 million compared with reported revenues of $185.2 million in the year-earlier quarter. Total revenues are likely to decline to $881 million from $906 million reported in the prior-year period.

Other Key Factors

A significant portion of Stericycle's growth was due to the successful integration of acquisitions in both domestic and international markets. The company is continuously on the lookout for strategic acquisitions that will grow its market share and expand geographic base. However, the acquisition binge is leading to higher overheads and integration-related expenses, which are weighing on margins. A decline in the availability of potential acquisition candidates could adversely impact the company's growth rate. Furthermore, many acquisitions have lower gross margins and higher selling, general and administrative expenses that often negate the positives.

Our proven model does not conclusively show that Stericycle is likely to beat earnings this quarter as it does not possess the key components. A stock needs to have both a positive Earnings ESP and a Zacks Rank #1 (Strong Buy), 2 (Buy) or 3 (Hold) for this to happen. This is not the case here as you will see below:

Zacks ESP: Earnings ESP, which represents the difference between the Most Accurate estimate and Zacks Consensus Estimate, is -0.33%. You can uncover the best stocks to buy or sell before they're reported with our Earnings ESP Filter.
Stericycle, Inc. Price and EPS Surprise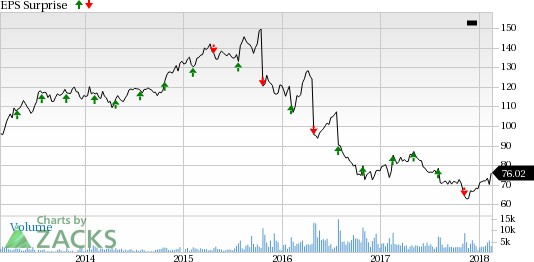 Stericycle, Inc. Price and EPS Surprise | Stericycle, Inc. Quote
Zacks Rank: Stericycle has a Zacks Rank #3. Although this increases the predictive power of ESP, we need to have a positive ESP to make us reasonably confident of an earnings beat.

Note that we caution against stocks with a Zacks Rank #4 or 5 (Sell-rated) going into the earnings announcement, especially when the company is seeing a negative estimate revisions momentum.

Stocks to Consider

Here are some companies that you may want to consider, as our model shows that these have the right combination of elements to post an earnings beat this quarter:

Sonic Automotive, Inc. SAH has an Earnings ESP of +2.42% and a Zacks Rank #2. You can see the complete list of today's Zacks #1 Rank stocks here.

Magna International, Inc. MGA has an Earnings ESP of +0.48% and a Zacks Rank #3.

Workday, Inc. WDAY has an Earnings ESP of +2.37% and a Zacks Rank #3.

Breaking News: Cryptocurrencies Now Bigger than Visa

The total market cap of all cryptos recently surpassed $700 billion – more than a 3,800% increase in the previous 12 months. They're now bigger than Morgan Stanley, Goldman Sachs and even Visa! The new asset class may expand even more rapidly in 2018 as new investors continue pouring in and Wall Street becomes increasingly involved.

Zacks has just named 4 companies that enable investors to take advantage of the explosive growth of cryptocurrencies via the stock market.

Click here to access these stocks. >>
Want the latest recommendations from Zacks Investment Research? Today, you can download 7 Best Stocks for the Next 30 Days.
Click to get this free report
Sonic Automotive, Inc. (SAH): Free Stock Analysis Report
Workday, Inc. (WDAY): Free Stock Analysis Report
Magna International Inc. (MGA): Free Stock Analysis Report
Stericycle, Inc. (SRCL): Free Stock Analysis Report
To read this article on Zacks.com click here.
Zacks Investment Research