Following the disappointing November 2017 Phase 2 data, Selecta has seen a down trend in price action. With 13-G filings (institutional ownership) trickling out for the Q4 2017 period, we now see who has sold.
Notable institutional players have significantly reduced (or completely sold) their SELB positions. These include Deerfield, Great Point and Perceptive (see below).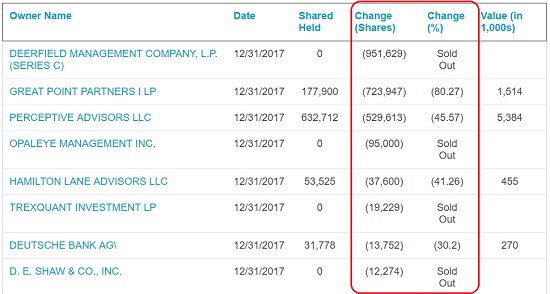 Although the lack of confidence from smart money is concerning, our SELB thesis remains the same (read FULL analysis here).
While institutions were selling, insiders were buying.
Following November 2017 price fall, insiders acquired $1.3M worth of stock in open market (below).

Bottom line: SEL-212 has showed a cleaner safety profile and greater convenience (monthly vs biweekly dosing) when compared to KRYSTEXXA. The company is now testing:
1. increased dosage of SVP-Rapamycin
2. increased number of "teach" dosings with Pegsiticase to improve response rate
We think Selecta has a good chance of improving response rate with these options and showing it is superior to KRYSTEXXA once again.
Remember, Horizon acquired Krystexxa for $510M in December 2015 and projected peak sales of $250M at time of acquisition. That's a 2x peak sales multiple.
In their 2018 corporate update, Horizon upped KRYSTEXXA peak sale projections to $750M. Assuming a constant 2x peak sales multiple, this new projection would value KRYSTEXXA at $1.5B.
Selecta's enterprise value is $130M (1/10th KRYSTEXXA)
We think institutions were quick to sell. SEL-212 data is expected in April 2018, which could show that the candidate is superior to KRYSTEXXA.
Notable institutional investors sold SELB positions in Q4 2017
Our thesis remains unchanged. We remain LONG and will hold position through data in April
One or more of PropThink's contributors are Long SELB
More