Indian share markets continued to flourish in today's session. At the closing bell, the BSE Sensex closed higher by 295 points and the NSE Nifty finished higher by 85 points. The S&P BSE Mid Cap finished up by 1.3% while S&P BSE Small Cap finished up by 1.6%.
Gains were largely seen in realty stocks, capital goods' stocks and power stocks.
Asian stock markets finished mixed as of the most recent closing prices. The Shanghai Composite gained 0.78%, while the Nikkei 225 & the Hang Seng fell 2.32% and 0.03% respectively. European markets are sharply higher today with shares in Germany leading the region. The DAX is up 2.05% while France's CAC 40 is up 1.64% and London's FTSE 100 is up 1.45%.
Rupee was trading at Rs 64.28 against the US$ in the afternoon session. Oil prices were trading at US$ 60.55 at the time of writing.
The Market cap to GDP ratio for Indian companies too is close to dangerously high levels. While this is still some way off the peak of FY-08, when it had once reached close to 150, it's relatively high.
FY17 saw this ratio reach close to 80. It is also expected to increase further given the moderate growth expectations in India's GDP for FY18. Warren Buffett once considered this as one of the best valuation metrics to gauge the markets.
Past history shows some correlation between the ratio and the share market. 2008 saw Sensex decline by 38%, when this ratio crossed the 100 mark. Also, the market has bounced back sharply when this ratio was low.
The Warren Buffett Indicator Suggests Indian Equity Market Is Overvalued
The basic assumption in this ratio is that whenever the GDP of the country grows, the market performance will reflect it. Also, when stocks do well, it can be extrapolated to assume the Indian economy is doing well.
Tata steel share price continued to gather momentum and finished up by 4.2% after the company said its third-quarter earnings jumped more than fivefold, replenishing the company's coffers as it plans to double production capacity in India. The company's profit rose to Rs 12.9 billion for the three months through December, from Rs 2.43 billion a year earlier.
In news from energy sector, ONGC share price surged 1.6% after it was reported that the company's international arm - ONGC Videsh (OVL) led Indian consortium comprising of Indian Oil Corporation (IOC) and the international arm of Bharat Petroleum Corporation has been awarded 10% stake in Lower Zakum Concession, Offshore Abu Dhabi.
The Indian Consortium would contribute a sign-up bonus of US$600 million to enter the concession for a 10% stake.
The current production of this field is about 400,000 bopd and Indian consortium annual share shall be about 2 MMT. The field profile is to set to achieve plateau target of 450,000 bopd by 2025.
In news from power sector, NTPC is planning to borrow around Rs 160 billion in next financial year to add 6,900 MW of fresh electricity generation capacity by March 2019. In this regard, the company may hit the bonds or debt market to borrow the said amount. The company is currently working on adding 21,000 MW capacities and projects are at different stage of execution.
Moreover, the company has planned capital expenditure of Rs 230 billion for 2018-19, which includes both debt and equity, essentially for capacity addition through the greenfield route.
NTPC share price finished the day on an encouraging note (up 1.1%).
Moving on to news from banking sector. Indian banks' gross non-performing assets (NPAs) or bad loans fell marginally to 9.8% during Q2 (July-September) of FY18, as compared to 10% in the previous quarter.
Union Minister of State for Finance Shiv Pratap Shukla has highlighted that as per RBI's financial stability report (FSR) released on December 2017, the gross non-performing advances ratio of scheduled commercial banks (SCBs) increased from 9.6% to 10.2% between March and September 2017.
Shukla has stated that the problem of bad loans of banks has been addressed holistically through transparent and realistic recognition of NPAs, provision for expected losses and unprecedented recapitalisation, and putting in place a clean recovery system.
Besides, he noted that under 'Indradhanush' roadmap announced in 2015, the government provided for Rs 700 billion till 2018-19 for strengthening PSBs' balance-sheets, as a result of which despite high NPA and consequential provisioning, banks were successful in complying with capital adequacy norms.
SBI share price finished the day down by 2.7% on the BSE after the bank reported a net loss of Rs 24.16 billion for the fiscal third quarter after setting aside funds to cover rising bad loans and losses on its bond portfolio.
It had reported a net profit of Rs 15.82 billion in the September quarter. This was the lender's first quarter under the chairmanship of Rajnish Kumar, who took over in October.
In another development, Marico share price gained 4.1% to Rs311.60 per share after the company reported a 16.51% increase in its consolidated net profit at Rs 2.23 billion for the quarter ended December 2017 on account of higher income led by market share gains.
And here's a note from Profit Hunter:
The Indian indices are trading on a positive note. Despite this, National Aluminum (NALCO), which was trading 7% up in the morning has finished the day only 2% up.
The company released its Q3FY18 results on Friday evening after the market hours. And today, the stock opened gap up but did not sustain up for long and slipped lower during the day.
The stock is currently trading at an interesting point. It bottomed out with overall market in February 2016 at Rs 29. It rallied strongly to hit a 52-week high of 97 in November 2017. It corrected a bit and resumed it up move after finding support from rising trendline.
But it couldn't make a new high as it slipped lower from 89 level in January 2018. During this down move, the stock broke below the rising trendline indicating weakness in the price action. It has also formed a head and shoulder pattern on the daily chart.
Disclaimer: Equitymaster Agora Research Private Limited (hereinafter referred as 'Equitymaster') is an independent equity research Company. Equitymaster is not an Investment Adviser. ...
The stock broke below the pattern just a few days back to hit a low of 66. It recovered a bit and it is now trading near the neckline of the head and shoulder pattern which usually act as a resistance post break out.
So does this mean the stock will now resume its down move as indicated by head and shoulder pattern? Let's keep a close watch on it.
National Aluminum Near H&S Neckline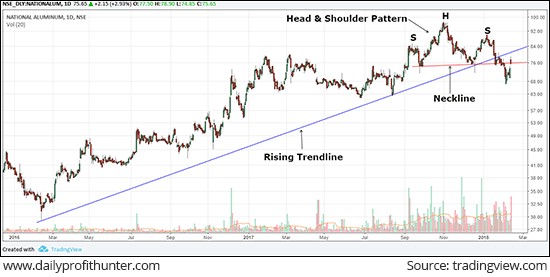 Disclaimer: Equitymaster Agora Research Private Limited (hereinafter referred as 'Equitymaster') is an independent equity research Company. Equitymaster is not an Investment Adviser. ...
More