The EUR/CAD has been consolidating after completing an inverted head and shoulders pattern as we can see in the daily chart.

EUR/CAD Daily Chart 6/30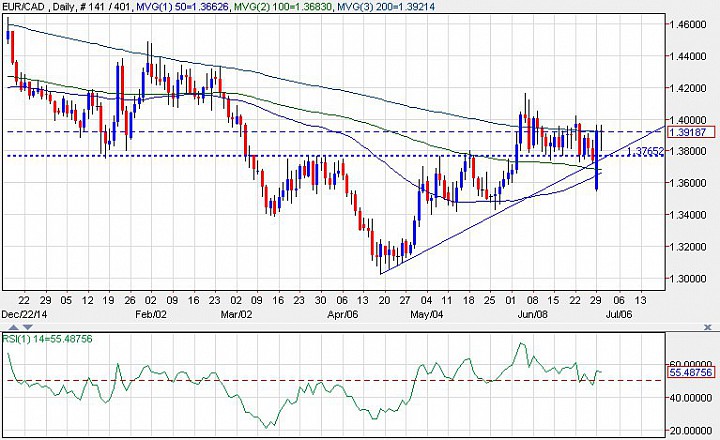 (click to enlarge)
At the start of this week, the euro plunged across the board, only to recover sharply. In fact, as we can see in the daily EUR/CAD chart, the pair created a bullish engulfing pattern with the jolt. Although the daily candle broke a rising trendline and the cluster of moving averages, it closed back above the trendline, and threatens to clear back above the cluster of SMAs. Also, the RSI held above 40. These are signs that the inverted head and shoulder pattern is still valid, and that bulls are still in control at least in the short-term.
The 4H chart provides further evidence of bullish control.

EUR/CAD 4H Chart 6/30

(click to enlarge)

Before pointing out the bullish signs, let's first understand that the momentum is subdued as the RSI holds under 60. The quick jab at the start of the week pushed the RSI below 30, and if the momentum is to be bullish again after the V-shape reversal, the 4H RSI needs to at least cross 60. 
Bullish signs:
1) We just mentioned the v-shape reversal, a sign that bears failed, and that bulls are in control. 
2) Also note that after price gapped lower to start the week, not only did it cover the gap, it went beyond above the highs of the previous several sessions. 
3) Price came back above the cluster of moving averages and then bounced off of them as support.
4) The latest bullish candle engulfed the previous several candles during the 6/30 session. 
A daily close above the psychological level of 1.40 would be a strong confirmation of the bullish outlook, which would have the 1.4162 June-high in sight, with further upside risk.