Hess Corporation (NYSE:HES) is the operator [57.1% stake] of the Tubular Bells Field in offshore Gulf of Mexico, which it developed with Chevron Corporation (NYSE:CVX) as its partner. The Tubular Bells development had first-oil back in the November of 2014, and Hess plans on ramping up production at the facility throughout 2015. In Q1 2015, Hess reported that the Tubular Bells pumped out an average 18,000 BOE/d gross. That will average 30,000 BOE/d - 35,000 BOE/d this year as Hess boosts production at existing wells through water injection [which boosts the pressure in the reservoir and increases well productivity] and as it brings another producing well online [which should have happened in Q2 2015]. At its peak, the Tubular Bells project will pump out ~44,000 BOE/d gross.
Farther out, Hess has the Stampede development to bank on to crank out more production from the Gulf of Mexico. The plan is for the operator, Hess [25% interest], to start drilling by the end of 2015 with first-oil expected in 2018. At its peak, the Stampede project has the capacity to pump out 80,000 BO/d gross.
Below is a look at the impact the Tubular Bells operation will have on Hess' production base this year, which will be a main driver of its production growth in 2015. There is a chance Hess might boost its production guidance, as its Bakken/Three-Forks output was above expectations in Q1 2015 and is guided to be substantially above its full-year forecast in Q2 2015.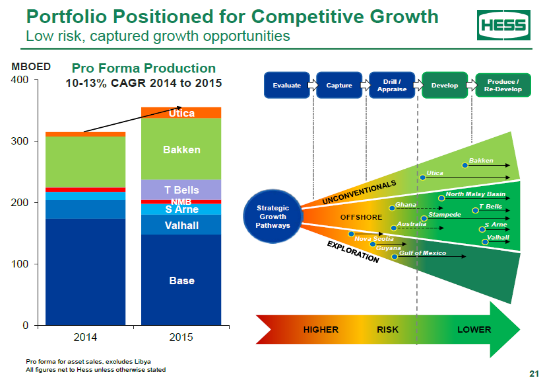 Source: Hess Corporation Presentation
Considering Hess' success with the Tubular Bells project, which it was able to bring online on time and within budget, there are reasons to believe that Hess should be able to continue on with its solid operation execution. One of the reasons I'm bullish on Hess Corporation and own shares of the company is because of its Gulf of Mexico growth runway, which should last until at least the end of the decade. Oil produced in the Gulf of Mexico generally fetches a slight premium to Brent, and Brent is trading at a substantial premium to WTI, which means Hess' new output streams will receive better realized prices and will be able to generate stronger margins. 
Another reason is that Hess will receive $3 billion in total by selling off half of its Bakken/Three-Forks midstream assets to Global Infrastructure Partners for $2.675 billion. An additional $300 million will be given to Hess from the newly formed JV through a debt offering. With the extra cash, Hess can pay down its debt, cover its dividend, and plug its cash flow shortfall [relative to its expenditures] until higher prices, third-party cost reductions, higher production levels, and lower capex spending levels cut down on its outspend. To read more about why I invested in Hess Corporation, click here. 
Investors who want to know about about how to make money investing in the energy industry should check out the Oil & Gas Investment Page. 
Disclosure: Callum Turcan, the author, owns shares of Hess Corporation. Always do your own due diligence before investing.