Oil Price has stabilized. WTI Crude has been oscillating around 60 as we can see nit he daily chart since May. 

WTI Crude Oil Daily Chart 7/2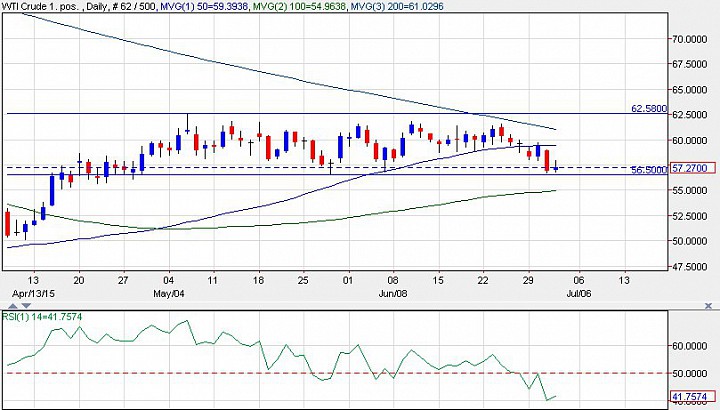 (click to enlarge)

In June, price bounced off the 56.50 range support and attacked the 62.50-62.58 resistance area. However, price retreated, holding under the the 200-day simple moving average as well. 

This essentially holds off a bullish outlook in WTI Crude's price action. Now, as we get started in July, oil prices are back to the range support around 56.50. 

IF price breaks below 55.00, we are likely to see a short to medium-term bearish scenario with 50.00 as a likely target at first. Below 55.00 price would break both the range support and the 100-day SMA, while the daily RSI would likely fall below 40, which shows loss of the bullish momentum going into the current range. 

Another level we can look for clues is around 60.00. If at any time, there is a rebound, see if price can hold under 60. If it does, that means bears are in likely in charge, and the market would be neutral-bearish, with at least 50 in sight. If price pops above 60, then the 2015-mode, bullish-neutral, would still be in play.