Today (6/30), Statistics Canada reported GDP data for the month of April. After a -0.2% reading in March, economists expected a reading around 0.1%. However, the economy continued to contract in April at a -0.1% rate. Canada's economy has shrank 4 out of the first 5 months of the year. 

CAD/JPY 4H Chart 6/30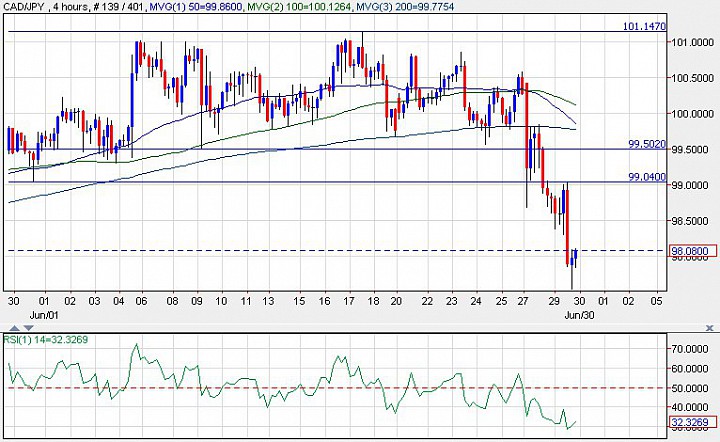 (click to enlarge)
CAD/JPY has been consolidating for most of June, with a high around 101.15. Last week, the pair started to fall as the Japanese yen stayed resilient across the board. We started the week with a break below 99.00, which was a key support pivot. Today, after the disappointing Canadian GDP data, the pair continued to fall sharply. 
CAD/JPY Daily Chart 6/30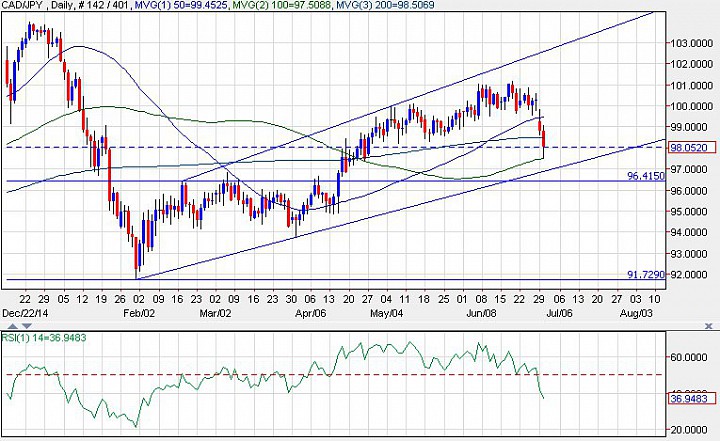 (click to enlarge)

Looking at the daily chart, we can see that after a dip from December through January, the CAD/JPY has been slowly rallying from 91.73 to 101.15. However, this drifting, multi-month rally seems to be shaky of late. The 96.40-97 area will be a key support area that involves the previous resistance pivot and a rising trendline. A break below 96.40 will signal a bearish outlook towards first a common support around 94.00 and then the 91.73 low on the year. This bearish outlook would be even more likely if we observe price fail to climb back above 100. That would represent respect to a price top and thus add to the bearish outlook.