A month has gone by since the last earnings report for MGIC Investment Corporation MTG. Shares have lost about 8.2% in that time frame, underperforming the market.
Will the recent negative trend continue leading up to its next earnings release, or is MTG due for a breakout? Before we dive into how investors and analysts have reacted of late, let's take a quick look at the most recent earnings report in order to get a better handle on the important drivers.
MGIC Investment Q4 Earnings Surpass, Revenues Miss

MGIC Investment reported fourth-quarter 2017 operating net income per share of 43 cents, having surpassed the Zacks Consensus Estimate by 59.3%. The bottom line improved 53.6% year over year on lower losses.

Including the impact of 36 cents from remeasurement of net deferred tax assets due to tax rate cut, net income came in at 7 cents.

Insurance in force rose while claims declined year over year. Also, expense ratio remained low whereas persistency increased.

Shares of MGIC Investment gained 3.09% at the trading session on Jan 18 to reflect the outperformance.

Operational Update
MGIC Investment recorded total operating revenues of $271 million, inching up about 1.5% year over year on higher net investment income (up 11.4%) and higher premiums (up nearly 1%). The top line missed the Zacks Consensus Estimate of $276 million.

New insurance written was $12.8 billion in the reported quarter, flat year over year.

As of Dec 31, 2017, the company's primary insurance in force was $194.9 billion, up 7% year over year.

Persistency or the percentage of insurance remaining in force from the preceding year was 80.1% as of Dec 31, 2017. The company had recorded persistency of 76.9% as of Dec 31, 2016.

Percentage of delinquent loans including bulk loans was 3.70% as of Dec 31, 2017 compared with 4.05% as of Dec 31, 2016.

Primary delinquent inventory declined nearly 7.4% year over year to 50,282 loans.

Net underwriting and other expenses totaled $43.8 million, up 7.9% year over year. Total loss and expenses contracted 75% year over year to $20 million due to reduced losses.

Loss ratio was (13.1%) in the quarter compared with 20.3% in the year-ago period, attributable to positive development on primary loss reserves. Underwriting expense ratio of 15.9% compares unfavorably with 15.7% in the prior-year quarter.

MGIC Investment expects new business combined with estimated increase in persistency. This in turn should help the company continue to improve its insurance in force.

Full-Year Highlights

The company posted operating income of $1.36 per share on revenues of $1.07 billion. While the bottom line reflects 37.4% surge, the top line slipped 0.9%, both on a year-over-year basis.

Though the bottom line beat the Zacks Consensus Estimate of $1.21, the top line was on par with the consensus mark.

Financial Update

Book value per share, a measure of net worth, jumped nearly 14% year over year to $8.51 as of Dec 31, 2017.

As of Dec 31, 2017, MGIC Investment had $216 million in cash and investments, down 23.7% year over year.

Risk-to-capital ratio was 10.5:1 as of Dec 31, 2017 compared with 12.0:1 as of Dec 31, 2016.
How Have Estimates Been Moving Since Then?
Analysts were quiet during the last month as none of them issued any earnings estimate revisions.
MGIC Investment Corporation Price and Consensus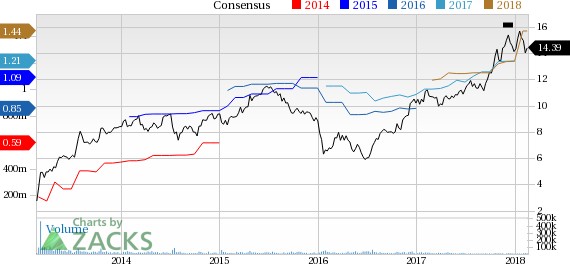 MGIC Investment Corporation Price and Consensus | MGIC Investment Corporation Quote
VGM Scores
At this time, MTG has a nice Growth Score of B, though it is lagging a lot on the momentum front with a D. The stock was allocated a grade of C on the value side, putting it in the middle 20% for this investment strategy.
Overall, the stock has an aggregate VGM Score of B. If you aren't focused on one strategy, this score is the one you should be interested in.
Our style scores indicate that the stock is more suitable for growth investors than value investors.
Outlook
MTG has a Zacks Rank #2 (Buy). We expect an above average return from the stock in the next few months.
Want the latest recommendations from Zacks Investment Research? Today, you can download 7 Best Stocks for the Next 30 Days.
Click to get this free report
MGIC Investment Corporation (MTG): Free Stock Analysis Report
To read this article on Zacks.com click here.
Zacks Investment Research