Stocks posted weekly losses Friday as slippery negotiations between Greece and its lenders failed to produce a decisive agreement.
The Dow Jones Industrials lost -69.27 points, or -0.38% on the week, closing at 17946.68. The Nasdaq closed down-36.50 points, or -0.71% to 5080.50. The S&P 500 declined -8.50 points, or -0.40% at 2101.49.
The chart below shows our breakouts and their dates relative to the index.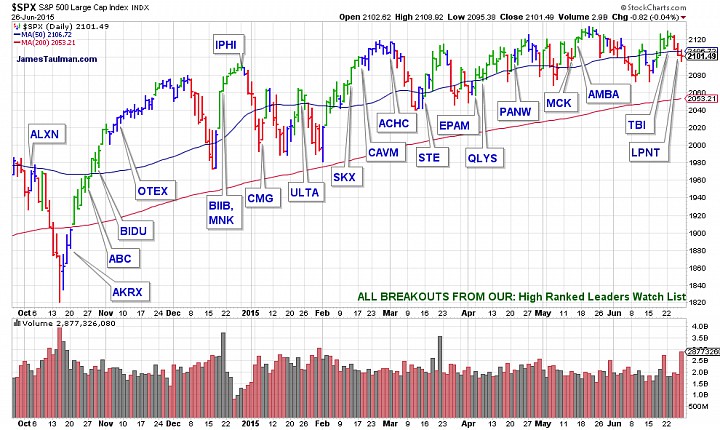 Friday's volume was impacted as the FTSE Russell rebalanced its indexes. As companies move from one index to another, managers of index-following funds are forced to buy or sell shares to mimic the performance of the index. Keep in mind, that may have have an affect on some of our selections below, as well as holdings in your account.
As everyone monitors daily the Greece debt crisis drama and watches for clues as to when Janet Yellen will raise interest rates, we will keep doing what we have been doing for more than a decade. We will buy stocks as they break out from the High Ranked Leaders Watch List, while we closely monitor our current holdings.
We did have another new breakout this past week as shares of LPNT got a boost – to say the least – from a Supreme Court ruling on Obamacare.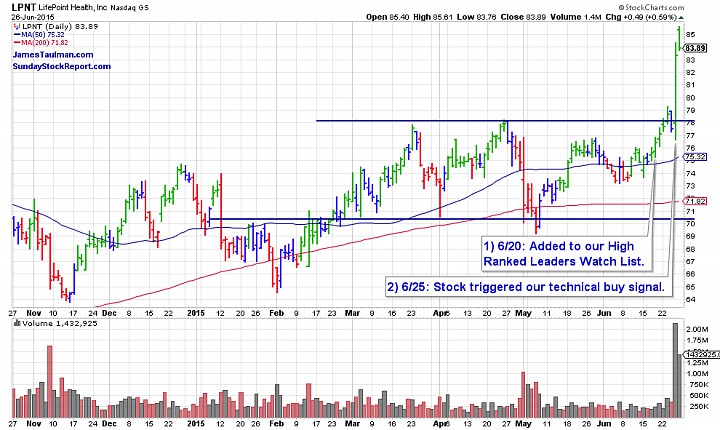 This selection was already trading above its TRIGGER PRICE of $78.33 earlier in the week, yet the volume during those occasions was not enough to have this stock flash a proper technical buy signal. That all changed when the Supreme Court ruled the Obama administration can continue to subsidize health-insurance purchases.
The news sent hospital stocks soaring, and had LPNT trading aggressively higher with a +516% increase in volume. That then triggered our technical buy signal on Thursday near 10:15 AM, and then became the latest addition to the Sunday Stock Report Portfolio.
There were follow-through gains on Friday, yet shares did finish well off of the intra-day highs.
It is important to keep in that this was a news-driven breakout. We would much rather see our stocks break out without any news. Plus, considering that the stock made such a sharp advance, we should be extra cautious as a pullback could be more likely. Any above average volume declines would be a concern.
Going forward, we are going to put our 1st SUPPORT at the 50 day moving average, currently at $75.32.
As far as the 11 other holdings which are being covered in the Sunday Stock Report Portfolio – shown here with their % gains/loss – we still continue to sort from the strongest to the weakest.
At this point our strongest selection remains, SKX (+70%) as it continues trading with a lack of any selling.
Our PANW (+15%) had also been considered strong, yet this past week it cracked as shares fell out of their six week uptrend.
We also had AMBA (+29%) in this top group up until the previous Friday when a short-selling firm called Ambarella's share price "ridiculous", and that set the stock into a tail spin.
We can move ACHC (+15%) and EPAM (+13%) up the list as each recently made new highs. There is also TBI(-0.49%) which just broke out for us during the previous week and is now trading just off of those new highs.
Holdings which continue to show some resilience by maintaining support of their 50 day moving average include; STZ(+34%), ULTA (+17%), and AGN (+114%).
Our continuously noted "most lagging issue" ABC (+35%) is now being dropped from coverage along with MCK(-2%). Both selections are now trading well below support of their 50 day moving averages.
I still diligently follow the same screening routines – when it comes to researching new buy candidates – which has been proven successful for more than a decade. This discipline has brought us countless winners through all types of market conditions.
As always, if anyone has any questions – please feel free to email me at james@jamestaulman.com as I would be glad to assist you.