SCANA Corporation SCG is scheduled to report fourth-quarter 2017 earnings before the opening bell on Feb 22.
Last quarter, the company delivered a negative earnings surprise of 0.85%. Moreover, SCANA failed to beat the Zacks Consensus Estimate in three of the last four quarters, the average negative surprise being 1.4%.
Which Way Are Estimates Treading?
Let's take a look at the estimate revision trend in order to get a clear picture of what analysts feel about the upcoming earnings release.
The Zacks Consensus Estimate for fourth-quarter earnings of 98 cents has been stable in the last 30 days. The estimate reflects a year-over-year rise of 12.6%.
Factors Likely to Influence Earnings
Since 2015, the company's long-term debt load has increased substantially, reflecting balance sheet weakness. SCANA lost 45.7% in 2017, underperforming the industry's 6.5% gain. The underperformance was led by the company's decision to conclude construction works of units 2 and 3 at the VC Summer Nuclear Station.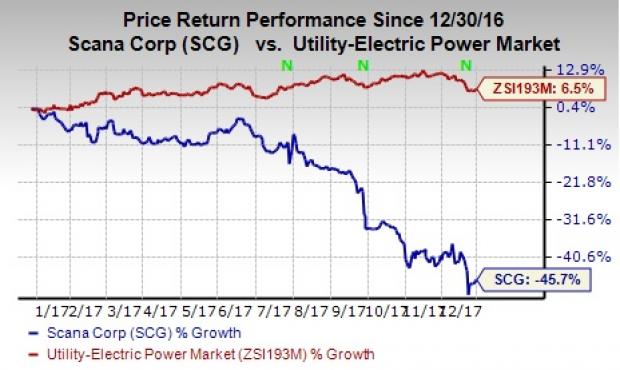 SCANA was forced to discontinue the project after the builder of the plants, Westinghouse Electric Co, went bankrupt. SCANA also filed for withdrawing operating licenses of the units as a series of delays and mounting costs became a concern for the company.
Moreover, the company's quarterly free cash flow has been negative in five of the last seven quarters, reflecting persistently weak operations.
Earnings Whispers
Our proven model does not conclusively show that SCANA will beat estimates this quarter. That is because a stock needs to have both a positive Earnings ESP and a Zacks Rank #1 (Strong Buy), 2 (Buy) or 3 (Hold) for this to happen. That is not the case here as you will see below.
Zacks ESP: Earnings ESP, which represents the difference between the Most Accurate estimate and the Zacks Consensus Estimate, is +0.26%. You can uncover the best stocks to buy or sell before they're reported with our Earnings ESP Filter.
Zacks Rank: SCANA carries a Zacks Rank #5 (Strong Sell). Please note that we caution against stocks with a Zacks Rank #4 (Sell) or 5 going into the earnings announcement, especially when the company is seeing negative estimate revisions.
Stocks to Consider
Here are a couple of companies which, per our model, have the right combination of elements to post an earnings beat this quarter:
Houston, TX-based EOG Resources EOG is an upstream company. It has an Earnings ESP of +3.61% and a Zacks Rank of 1. You can see the complete list of today's Zacks #1 Rank stocks here.
WildHorse Resource Development Corporation WRD, based in Houston, TX, is also an upstream energy firm. It has an Earnings ESP of + 5.26% and a Zacks Rank #1.
Dallas, TX-based RSP Permian, Inc. RSPP is an upstream energy company with an Earnings ESP of +1.64%. It is a Zacks #1 Ranked player.
Breaking News: Cryptocurrencies Now Bigger than Visa
The total market cap of all cryptos recently surpassed $700 billion – more than a 3,800% increase in the previous 12 months. They're now bigger than Morgan Stanley, Goldman Sachs and even Visa! The new asset class may expand even more rapidly in 2018 as new investors continue pouring in and Wall Street becomes increasingly involved.
Zacks has just named 4 companies that enable investors to take advantage of the explosive growth of cryptocurrencies via the stock market.
Click here to access these stocks>>
Want the latest recommendations from Zacks Investment Research? Today, you can download 7 Best Stocks for the Next 30 Days.
Click to get this free report
SCANA Corporation (SCG): Free Stock Analysis Report
EOG Resources, Inc. (EOG): Free Stock Analysis Report
RSP Permian, Inc. (RSPP): Free Stock Analysis Report
Wildhorse Resource Development Corporation (WRD): Free Stock Analysis Report
To read this article on Zacks.com click here.