ANSYS Inc ANSS is set to release fourth-quarter 2017 earnings on Feb 21.

Notably, the company has a positive record of earnings beats in the trailing four quarters, with an average surprise of 6.27%. Last quarter, the company delivered a positive earnings surprise of 8.25%.

Non-GAAP earnings of $1.05 per share increased 10.5% year over year. Moreover, revenues increased 12.6% (12% in constant currency) from the year-ago quarter to $276.8 million, surpassing the Zacks Consensus Estimate of $264 million.

For fourth-quarter 2017, ANSYS expects non-GAAP earnings in the range of 99 cents to $1.05 per share. Net revenues are anticipated in the range of $284-$293 million. The company expects gross margin of 90% and operating margin between 44% and 45%.
ANSYS, Inc. Price and EPS Surprise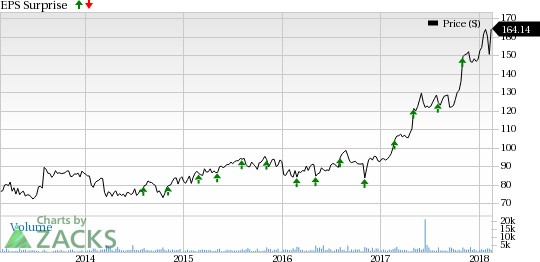 The Zacks Consensus Estimate for earnings shows an increase of 6.1% year over year to $1.04 per share for the soon-to-be reported quarter. The consensus estimate for revenues is currently pegged at $290.5 million, up 7.3% year over year.

Notably, the stock has returned 8.5% in the last three months, better than the 6.5% rally of the industry.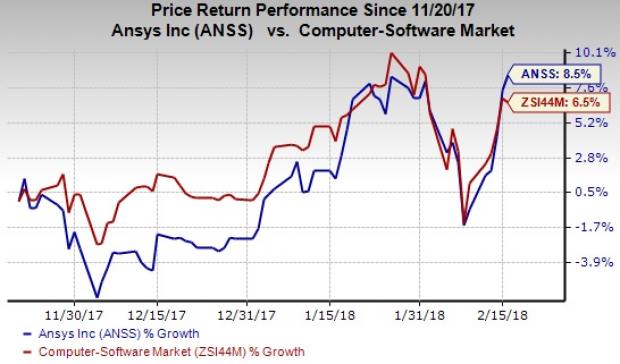 Let's see how things are shaping up for this announcement.

Portfolio Strength to Drive Growth

ANSYS is a dominant player in the high-end design simulation software market. Robust adoption of the company's products, portfolio strength, and expanding partner base are key catalysts.

ANSYS' strong simulation portfolio is helping it to rapidly grow total addressable market ("TAM"). The solutions are in demand owing to the rising complexity in product design and wide scale adoption by major manufacturing companies.

Moreover, collaborations with major CAD vendors — Autodesk, PTC and Siemens as well as companies like NVIDIA, Ferrari, Taiwan Semiconductor, Synopsys and Grundfos are expanding product portfolio. These have helped the company offer varied range of products ranging from automotive reliability solutions, live simulation software, and high performance steering wheels.

Moreover, these partnerships have strengthened the company's competitive position in the simulations market.

Declining Perpetual License to Hurt

ANSYS expects the transition from perpetual license contracts to longer term, time-based licenses at some of the company's largest customers (in mature markets like the United States and Japan) to affect software license and maintenance revenues growth in the near term.

Further, ANSYS expects to incur additional charges of $2 million ($1.3 million, net of tax), primarily in the quarter, related to additional realignment charges. This is likely to drag profitability.

The Zacks Consensus Estimate for total perpetual revenues is currently pegged at $73 million, which is expected to decline 6.4% on a year-over-year basis.

What Our Model Says

According to the Zacks model, a company with a Zacks Rank #1 (Strong Buy), 2 (Buy) or 3 (Hold) has a good chance of beating estimates if it also has a positive Earnings ESP. The Sell-rated stocks (Zacks Rank #4 or 5) are best avoided. You can uncover the best stocks to buy or sell before they're reported with our Earnings ESP Filter.

ANSYS has a Zacks Rank #3 and Earnings ESP of 0.00%. Consequently, the company is unlikely to deliver a positive surprise this quarter.

Stocks to Consider

Here are some better-ranked stocks that you may want to consider as our model shows that they have the right combination of elements to deliver an earnings beat in their upcoming release.

Micron Technology MU has an Earnings ESP of +1.83% and a Zacks Rank #1. You can see the complete list of today's Zacks #1 Rank stocks here.

Castlight Health CSLT has an Earnings ESP of +7.69% and a Zacks Rank #3.

Analog Devices ADI has an Earnings ESP of +0.96% and a Zacks Rank #3.
Breaking News: Cryptocurrencies Now Bigger than Visa
The total market cap of all cryptos recently surpassed $700 billion – more than a 3,800% increase in the previous 12 months. They're now bigger than Morgan Stanley, Goldman Sachs and even Visa! The new asset class may expand even more rapidly in 2018 as new investors continue pouring in and Wall Street becomes increasingly involved.
Zacks' has just named 4 companies that enable investors to take advantage of the explosive growth of cryptocurrencies via the stock market.
Click here to access these stocks >>
Want the latest recommendations from Zacks Investment Research? Today, you can download 7 Best Stocks for the Next 30 Days.
Click to get this free report
Castlight Health, inc. (CSLT): Free Stock Analysis Report
ANSYS, Inc. (ANSS): Free Stock Analysis Report
Analog Devices, Inc. (ADI): Free Stock Analysis Report
Micron Technology, Inc. (MU): Free Stock Analysis Report
To read this article on Zacks.com click here.
Zacks Investment Research