After opening the day on a positive note, stock markets in India have continued their momentum and are presently trading in the green. Sectoral indices are trading on a positive note with stocks in the realty sector, healthcare sector and capital goods sector witnessing maximum buying interest.
The BSE Sensex is trading up 224 points (up 0.7%) and the NSE Nifty is trading up 61 points (up 0.6%). The BSE Mid Cap index is trading up by 1.4%, while the BSE Small Cap index is trading up by 1.8%. The rupee is trading at 64.28 to the US$.
In news from stocks in the pharma sector. Cadila Healthcare share price is among the top gainers on the bourses today.
The surge came after the company reported that the US Food and Drug Administration (USFDA) successfully completed the audit and inspection of it facility in Moraiya, Ahmedabad, without any adverse observations.
Cadila's Moraiya facility was audited by USFDA as a surprise inspection which was triggered due to the product recalls last year. Moraiya is key facility for Cadila as significant number ANDAs are filled from this facility. This facility had been under import alert prior to its clearance by the USFDA last year.
At the time of writing, Cadila Healthcare share price was trading up by 3%.
The Indian pharmaceutical industry has come under a lot of regulatory pressure in the past few years.
The sector has faced great volatility over the years.
We had written about the current predicament of Indian pharma companies in one of the premium editions of the 5 Minute WrapUp:
Over the past few years, risk in the US markets has increased. The US Food and Drug Administration has become stricter on products entering US borders. Surprise inspections have increased and companies are being issued warning letters. This has impacted the business and earnings of Indian pharma players, causing major volatility for the sector.
Is the Worst Over for all the Pharma Stocks?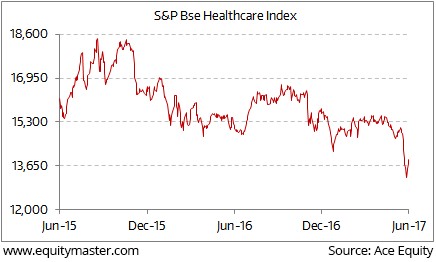 As per him, it doesn't make sense to paint all pharma stocks with the same brush. The leaders of the industry will certainly survive this phase. There are interesting, niche pharma stocks that are worth your attention.
Facing pricing pressures in the domestic and export markets, currency fluctuations, as well as manufacturing issues related to their plant, there is a transformation happening in the overall sector as to how business is done and will be done in the future.
Moving on to news from stocks in the engineering sector. L&T share price is in focus today after the company's unit bagged new orders.
L&T Hydrocarbon Engineering Ltd (LTHE), a wholly owned subsidiary of Larsen & Toubro Ltd, has signed a major field development engineering, procurement and construction (EPC) contract with Al Dhafra Petroleum Operations Company Limited, Abu Dhabi, UAE.
Al Dhafra Petroleum is a joint venture between ADNOC and Korea National Oil Corporation (KNOC) and GS Energy, which is represented by Korean Abu Dhabi Oil Consortium (KADOC).
The contract is worth over Rs 22 billion. And its scope includes Engineering, Procurement, Construction & Commissioning of flow lines, gathering facilities & pipelines to transfer crude oil & gas from Haliba fields to a processing facility at Asab and installation of 132 kV and 33 kV overhead electrical transmission lines to supply power.
L&T's Hydrocarbon segment secured fresh domestic orders of Rs74.6 billion during Q3FY18.
At the time of writing, L&T share price was up by 1.6%.
More