In an earlier post on USD/CAD, we noted some key levels for this week as the pair consolidated. We proposed that a break above 1.2423 would likely put the 1.2563 June-high in sight with further upside risk towards the 1.28-1.2834 high on the year in the medium-term. 
From the 4H chart below, we can see that the bullish scenario did materialize.
USD/CAD 4H Chart 7/2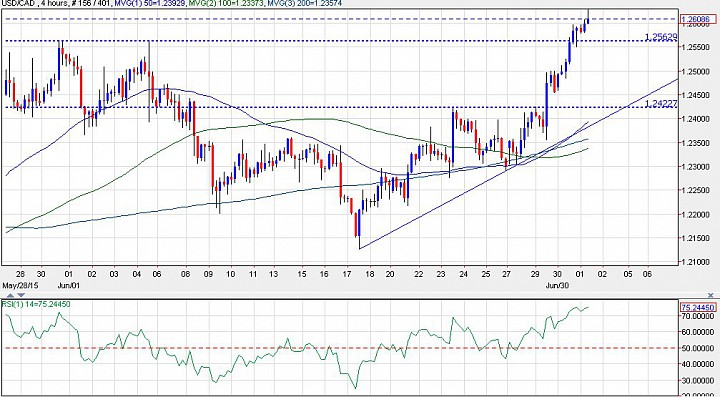 (click to enlarge)
We can see that there was a strong break above 1.2423 after which price continued to rally without much pause. By the start of the 7/2 session, it has broken above the June-high and is now capturing the 1.26 handle. It looks like the pair is poised to continue towards the 1.28-1.2834 highs on the year, but perhaps we will see some consolidation as the 4H RSI pushes into overbought territory. 
Today's US NFP report will be key. It is expected to come in around 231K for June, which would be lower than the 280K for May. While this might not be very impressive and might not be a boost for the USD, we should note that the Canadian dollar has been weak across the board after disappointing GDP data. Therefore a rally in USD/CAD would most likely be a loonie-story. If the NFP beats forecast, there is an even stronger chance of USD/CAD heading towards the 1.28 area by next week. 
However, if the US NFP comes in around 200K, or even lower, we might see USD/CAD hold. A reading below 200K would likely bring the USD/CAD back towards the 1.2423, broken resistance area in the context of consolidation, and likely NOT in the context of a bearish reversal.