More than a month has gone by since the last earnings report for American Express Company AXP. Shares have lost about 3.1% in that time frame underperforming the market in that time frame.
Will the recent negative trend continue leading up to its next earnings release, or is AXP due for a breakout? Before we dive into how investors and analysts have reacted as of late, let's take a quick look at the most recent earnings report in order to get a better handle on the important drivers.
American Express Q4 Earnings Beat Estimates
American Express Company reported adjusted earnings per share (EPS) of $1.58, beating the Zacks Consensus Estimate by 2.6%. Earnings witnessed a sharp 74% year-over-year improvement.
Better-than-expected results were mainly backed by growth in card billed business, increase in total cards in force, higher Card Member spending at lower tax rate and the effect of share buyback. The company continues to witness strong loan growth and credit metrics, plus lower operating costs.
The Tax Reform
The company saddled a charge of $2.6 billion on account of estimated taxes on deemed repatriations of certain overseas earnings. The remeasurement of U.S. deferred tax assets and liabilities led to net loss of $1.41 per share compared with net income 88 cents per share a year ago.
This charge has drained American Express' capital ratio. In order to rebuild the same, the company has put on hold its share buyback plan until the first half of 2018, but has promised to continue paying dividend at the current level.
Over the long haul the company, however, is sanguine about the tax reform and stated that it would invest up to $200 million more in 2018 than originally planned for customer-facing growth initiatives. It also plans to use the anticipated benefits from tax savings to provide more for its employees and shareholders.
Full-Year 2017 Results
Earnings per share were $2.97, down 47% year over year. Sans the impact of the Tax Act, earnings per share were $5.87. The company delivered better than its own expectations. It was in line with the guidance the company offered during its last results (earnings per share of $5.80 to $5.90) and higher than the initial guidance provided at the beginning of the year ($5.60 to $5.80).
Revenues, net of interest expense, for the full year were $33.5 billion, up 4% year over year, driven by record billings and strong loan growth.
Delving Deeper
Revenues came in at $8.84 billion, 1.4% ahead of the Zacks Consensus Estimate of $8.72 billion. Top line increased 10% year over year on higher non-interest income and interest received on loans.
Provisions for losses totaled $833 million, up 33% year over year attributable to growth in the loan portfolio and an escalation in the lending write-off and delinquency rates.
Total expenses of $6.2 billion decreased 1% year over year due to a decline in marketing cost, partly offset by higher rewards' expenses.
The effective tax rate was 24%, reflecting a fall from 29% in the year-ago quarter. The tax rate decrease primarily reflected the level and geographic mix of earnings as well as discrete tax items.
Total expenses fell 1% year over year to $6.2 billion, primarily due to lower marketing and promotion and professional services expenses.
Segment Results
American Express' U.S. Consumer Services segment reported net income of $507 million, up 44% year over year. Total revenue, net of interest expense of $3.4 billion, was up 13% year over year, reflecting higher net interest income and Card Member spending.
International Consumer and Network Services' net income amounted to $199 million, up 137% year over year. Total revenue, net of interest expenses, climbed 7% (on a currency adjusted basis) year over year to $1.5 billion, primarily on the back of higher Card Member spending.
Global Commercial Services' net income of $580 million rose a good 52% year over year. Total revenues, net of interest expenses, increased 7% year over year to $2.7 billion, primarily reflecting higher Card Member spending.
Global Merchant Services' net income rose 12% year over year to $413 million in the reported quarter. Total revenues, net of interest expenses, increased 9% year over year to $1.2 billion on higher Card Member spending, partially offset by a lower discount rate.
Corporate and Other reported net loss of $2.9 billion, which compared unfavorably with the net loss of $361 million in the year-ago quarter.
2018 Guidance
The company foresees 2018 earnings per share between $6.90 and $7.30.
How Have Estimates Been Moving Since Then?
It turns out, fresh estimates flatlined during the past month. There has been one revision higher for the current quarter compared to one lower.
American Express Company Price and Consensus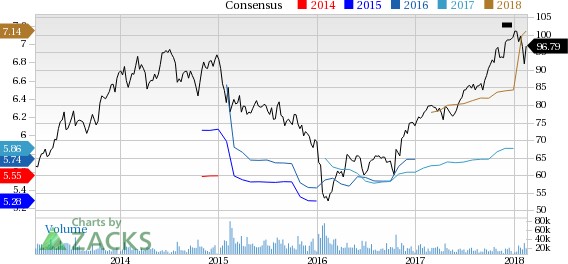 American Express Company Price and Consensus | American Express Company Quote
VGM Scores
At this time, AXP has an average Growth Score of C, though it is lagging a lot on the momentum front with an F. However, the stock was also allocated a grade of C on the value side, putting it in the middle 20% for this investment strategy.
Overall, stocks has an aggregate VGM Score of C. If you aren't focused on one strategy, this score is the one you should be interested in.
Zacks' style scores indicate that the company's stock is suitable for value and growth investors.
Outlook
AXP has a Zacks Rank #2 (Buy). We expect an above average return from the stock in the next few months.
Want the latest recommendations from Zacks Investment Research? Today, you can download 7 Best Stocks for the Next 30 Days.
Click to get this free report
American Express Company (AXP): Free Stock Analysis Report
To read this article on Zacks.com click here.
Zacks Investment Research