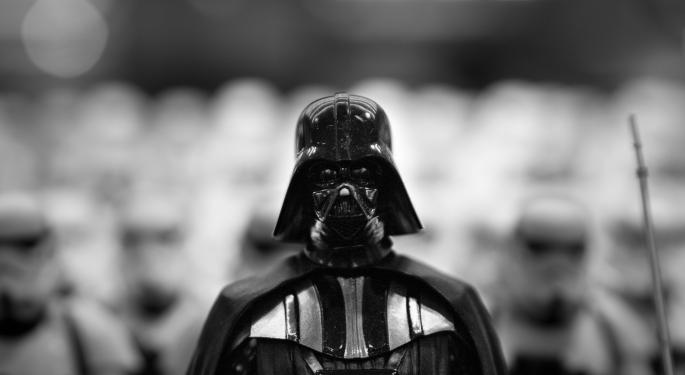 Since the acquisition, Disney released "Episode VII - The Force Awakens" on December 18, 2015, and "Rogue One: A Star Wars Story" on December 16, 2016.
The 2015 film was just the third film in history to collect more than $2 billion and holds countless records. According to Deadline.com, at a cost of $259 million to make, the net profit to Disney topped just $780 million.
"Rogue One" was a bit cheaper to make at $200 million. Forbes noted there is a "a lot of if X is Y then Z speculation" to determine how well it performs over its entire lifespan, and the movie is likely to gross $500 million.
Combined, the two "Star Wars" films will net Disney a profit of $1.28 billion — marking a decent rate of return on its purchase. However, investors will be eyeing the point when Disney has earned enough cash to repay itself for the initial $4.05 billion.
Assuming an average profit of $640 million per "Star Wars" film, the studio won't be breaking even any time soon. Of course, these are basic assumptions that don't even begin to take into account the growth rate of the film industry, especially in key international markets like China.
Here are the upcoming Star Wars films that have already been announced:
"Star Wars: Episode VIII" - December 15, 2017.
"Young Han Solo Movie" - May 25, 2018.
"Star Wars: Episode IX" - May 23, 2019 (tentative).
"A Boba Fett Movie" - Rumored for 2020.
Of particular note, Disney also acquired the rights to the "Indiana Jones" franchise, and the studio is eyeing a July 19, 2019, release for the fifth film of the franchise with future releases to follow. Naturally, when determining the time period for Disney to recoup its cost for the acquisition these films should also be considered.
© 2016 Benzinga.com. Benzinga does not provide investment advice. All rights reserved.