A month has gone by since the last earnings report for Schlumberger Limited SLB. Shares have lost about 13.2% in the past month, underperforming the market.
Will the recent negative trend continue leading up to its next earnings release, or is SLB due for a breakout? Before we dive into how investors and analysts have reacted as of late, let's take a quick look at the most recent earnings report in order to get a better handle on the important catalysts.
Recent Earnings
Schlumberger's fourth-quarter 2017 earnings of 48 cents per share (eliminating charges and credits) surpassed the Zacks Consensus Estimate of 44 cents and the year-earlier figure of 27 cents.
Total revenues of $8,179 million improved from the year-earlier level of $7,107 million and beat the Zacks Consensus Estimate of $8,116 million.
Surge in SIS software sales, ramp up of drilling operations in Colombia and Argentina along with higher pricing in North America's onshore market supported the strong fourth-quarter results.
Segmental Performance
Each of the groups — Reservoir Characterization, Drilling Group and Production Group — recorded a year-over-year rise in earnings.
Drilling Group revenues increased primarily on contributions from the international market. Ramp up of activities in Colombia and Argentina also drove revenues. On top of that, profits at the business unit were supported by the commencement of new projects in China and Qatar.
Results at the Production Group were mostly buoyed by solid activities in the international market. Increased operations in Russia, Argentina and Saudi Arabia drove the segment's fourth-quarter numbers. Surge in pricing in North America's onshore market also contributed to the outperformance.
The Reservoir Characterization segment was also supported by strong contributions from the international market. Jump in sales of SIS software led to increased profits.
Reservoir Characterization: Revenues totaled $1,638 million compared with $1,676 million in the prior-year quarter. However, pre-tax operating income totaled $360 million, up 13% year over year.
Drilling Group: Revenues of $2,180 million rose 8% year over year. Moreover, pre-tax operating income was $319 million, up 36% year over year.
Production Group: Revenues at this group increased 40% from the year-earlier quarter to $3,079 million. Pre-tax operating income skyrocketed 146% year over year to $315 million.
Cameron Group: This segment generated revenues of $1,414 million, up 5% year over year. Pre-tax operating income rose 8% from the prior-year comparable period to $203 million.
Financials
As of Dec 31, 2017, the company had approximately $5,089 million in cash and short-term investments and $14,875 million in long-term debt. This represents a debt-to-capitalization ratio of 32.8%. In the October-to-December quarter, the company bought back 1.6 million shares.
Guidance
For 2018, the company projects investments of $2 billion, almost in line with the 2017 and 2016 figures.
How Have Estimates Been Moving Since Then?
It turns out, fresh estimates have trended downward during the past month. There has been one revision higher for the current quarter compared to six lower.
Schlumberger Limited Price and Consensus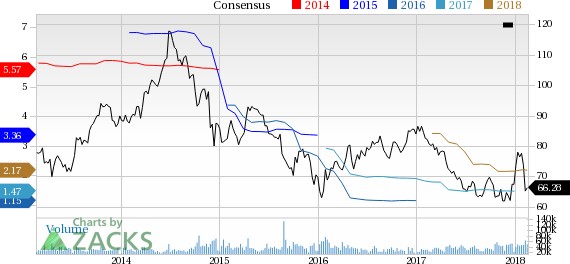 Schlumberger Limited Price and Consensus | Schlumberger Limited Quote
VGM Scores
At this time, SLB has a great Growth Score of A, though it is lagging a lot on the momentum front with an F. Charting a somewhat similar path, the stock was also allocated a grade of D on the value side, putting it in the bottom 40% for this investment strategy.
Overall, the stock has an aggregate VGM Score of C. If you aren't focused on one strategy, this score is the one you should be interested in.
The company's stock is suitable solely for growth based on our styles scores.
Outlook
Estimates have been broadly trending downward for the stock, and the magnitude of these revisions indicates a downward shift. It's no surprise SLB has a Zacks Rank #4 (Sell). We expect a below average return from the stock in the next few months.
Want the latest recommendations from Zacks Investment Research? Today, you can download 7 Best Stocks for the Next 30 Days.
Click to get this free report
Schlumberger Limited (SLB): Free Stock Analysis Report
To read this article on Zacks.com click here.
Zacks Investment Research