Bitcoin was bearish in 2014 heading into 2015 but eventually started to consolidate. As we can see in the daily chart, the price action of this virtual currency eventually formed a triangle. As we start the July month, price action is testing the triangle resistance.
Bitcoin (BTCUSD) Daily Chart 7/2

(click to enlarge)
In the daily chart, the moving averages are converging towards the apex of the triangle. The RSI has been oscillating between 30 and 70, showing lack of directional commitment. As price tests the triangle resistance, we are seeing a bearish divergence between price and the RSI. 
The bearish divergence simply tells us that the market is not attacking the triangle resistance with strong momentum. One interpretation of this signal could be a bearish outlook towards the 235 level. Around 235, price would test the triangle support as well as the 100-, and 50-day SMAs. 
However, if the above-mentioned scenario does NOT materialize, we could be developing a major bullish outlook. Let's take a look at the 4H chart to stalk the current retreat from the triangle resistance.
Bitcoin (BTCUSD) 4H Chart 7/2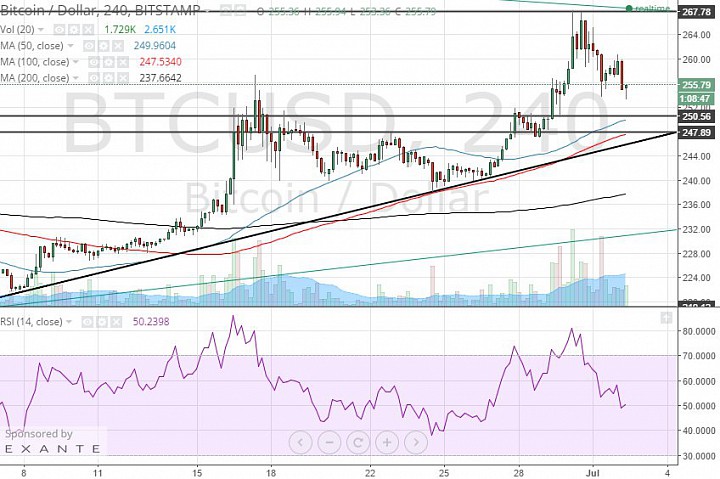 (click to enlarge)
Om the 4H chart, we can see that the market has been bullish throughout June, rallying from around 220 up to 268 by the end of the month. From 268, price action has so far been bearish. The latest bearish 4H candle suggests there is further downside risk at least in the very short-term. 
However, as price approaches 250 and as the 4H RSI approaches 40, we should start monitoring bitcoin the chart for support. Here is a support/resistance pivot area and a rising trendline. Also, if the RSI holds above 40, it would reflect maintenance of June's bullish momentum. If we see this, we can say that there IS bullish momentum towards the triangle seen in the daily, and that a bullish breakout would be imminent. 
A break below June's rising support, and below 245 however, puts the cryptocurrency towards the 235-240 area. A break below 235 might break the triangle support and put the June low of 220 in sight. Otherwise, above 267, price would have the high on the year around 300 in sight.