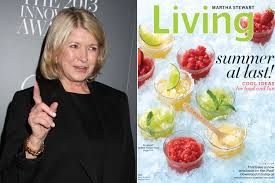 Martha Stewart: You Can Do Better by Activist Stocks
Martha Stewart Living ($MSO) is facing activist pressure to find a better buyout offer. Plymouth Lane Capital has a 10.9% active stake. Plymouth plans to help Martha Stewart with ensuring a "robust marketing process in order to obtain acquisition proposals during the go-shop period."
The deal is that Sequential Brands Group is trying to buy Martha Stewart Living for $353 million. Sequential's offer is $6.15 a share, but the stock is trading north of that on hopes a higher bidder will come in.
Martha is the king marker, owning 40% of Class A shares. The deal with Sequential will keep Martha as founder and CCO.
Regardless, the $353 million offer is a well off the $2 billion Martha Stewart Living was valued at in 1999. Blame it on the declining print business and cancelled TV shows. But it still owns half of the Jessica Simpson fashion brand and licenses for the Justin Timberlake William Rast brand.