Shares of Alaska Air Group, Inc. ALK have declined more than 2% ever since it released its traffic results for January 2018, last week. In the first month of 2018, the company's consolidated traffic (measured in revenue passenger miles or RPMS) increased 3.5% to approximately 4 billion.
Consolidated capacity (measured in average seat miles or ASMs) also increased 6.6% to 5.2 billion. As capacity expansion outweighed traffic growth in January, load factor (percentage of seats filled by passengers) declined 230 basis points to 75.8%. The decline in this key metric was due to capacity overexpansion which disappointed investors, thus leading to the stock price depreciation.
In first-quarter 2018, the carrier aims to expand capacity by around 8%. For the full year, the metric is likely to climb 7.5%. Consequently, load factor will be pressurized throughout 2018 at this Seattle, WA-based carrier in the event of traffic growth lagging capacity expansion.
Alaska Air Group, Inc. Price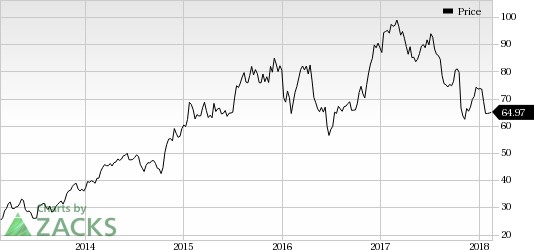 In fact, Alaska Air Group is not the only carrier which is facing capacity relate issues. We remind investors that shares of United Continental Holdings, Inc. UAL also declined significantly in the last month, even after reporting better-than-expected results in the fourth quarter on issues related to capacity.
On the fourth-quarter conference call, the company stated that it will continue to expand capacity in a bid to maintain market share at major airport hubs to deal with competition from discount carriers like Spirit Airlines, Inc. SAVE. For 2018, United Continental's capacity growth is projected between 4% and 6% year over year. The metric is anticipated to grow for 2019 as well as 2020.
Zacks Rank & Stock to Consider
Alaska Air Group has a Zacks Rank #4 (Sell).
A better-ranked stock in the Zacks Airline industry is American Airlines Group Inc. AAL carrying a Zacks Rank #2 (Buy). You can see the complete list of today's Zacks #1 Rank (Strong Buy) stocks here.
American Airlines has seen the Zacks Consensus Estimate for current-year earnings being revised 12.8% upward over the last 30 days.
Breaking News: Cryptocurrencies Now Bigger than Visa
The total market cap of all cryptos recently surpassed $700 billion – more than a 3,800% increase in the previous 12 months. They're now bigger than Morgan Stanley, Goldman Sachs and even Visa! The new asset class may expand even more rapidly in 2018 as new investors continue pouring in and Wall Street becomes increasingly involved.
Zacks has just named 4 companies that enable investors to take advantage of the explosive growth of cryptocurrencies via the stock market.
Click here to access these stocks. >>
Want the latest recommendations from Zacks Investment Research? Today, you can download 7 Best Stocks for the Next 30 Days.
Click to get this free report
United Continental Holdings, Inc. (UAL): Free Stock Analysis Report
Spirit Airlines, Inc. (SAVE): Free Stock Analysis Report
American Airlines Group, Inc. (AAL): Free Stock Analysis Report
Alaska Air Group, Inc. (ALK): Free Stock Analysis Report
To read this article on Zacks.com click here.
Zacks Investment Research