It's been a busy year for General Electric (NYSE:GE). But since a late October merger announcement with Baker Hughes (NYSE:BHI), the company isn't slowing down. In fact, in a Dec. 14 presentation, CEO Jeff Immelt sounded more like a captain of the starship Enterprise: boldly going where no industrial conglomerate has gone before.
Here's what investors can expect from GE in the post-Baker Hughes era.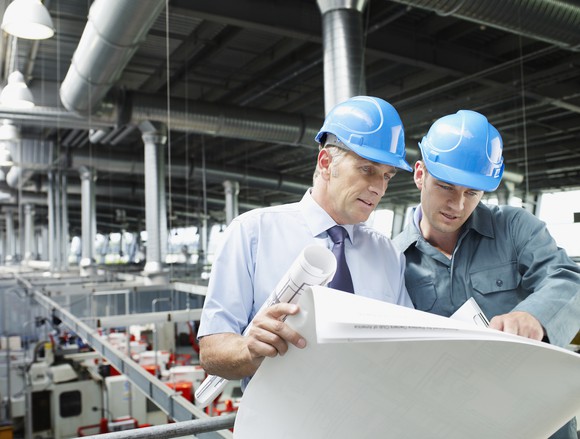 $2.00 by 2018
Probably the boldest-sounding statement by Immelt was his prediction of $2.00 per share in earnings by 2018. Current-year EPS is expected to be in the $1.48 to $1.52 range, so Immelt is forecasting a one-third increase in two years, which sounds like aggressive growth for such a large company. But when you look more deeply into the details, it doesn't seem quite so far-fetched.
Part of the trick -- and I do mean "trick" -- is share buybacks. By reducing the number of outstanding shares, GE can boost per-share earnings. So, while that's good for investors who hang onto their shares, it doesn't mean the company is actually growing overall earnings. Immelt expects buybacks to account for $0.16 of the per-share increase, or roughly one-third of the total increase in EPS.
Another $0.15 of the EPS increase, according to Immelt, will come from "capital allocation," by which he means mergers and acquisitions, including the big merger of GE's oil and gas division with Baker Hughes. That deal was unanimously approved by the companies' boards, but is still awaiting shareholder approval (which seems likely) and a green light from regulators (which, although less certain, still seems probable).
That leaves just $0.18 per share to come from good old-fashioned operations. Immelt attributes this to an organic growth rate of 3% to 5% plus 50 basis points of margin enhancement -- which, he notes, has been GE's historic run rate over the last five years. So, once you break it down, $2.00 a share seems like a pretty solid bet for GE in 2018.
You won't even recognize the place
General Electric is a very...
More