The EUR/USD was consolidating last week but retained a bearish bias even in the very short-term. The bearish outlook remained intact even in the 1H chart as price held under the 200-, 100-, and 50-hour simple moving averages for the most part, while the 1H RSI held below 60 after pushing below 30.
EUR/USD 1H Chart 6/29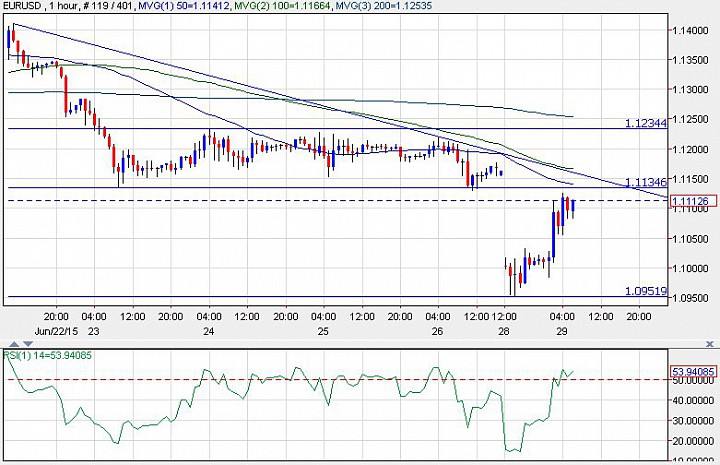 (click to enlarge)
At the start of the week, the pair plunged below the 1.1135 low from last week, tagging 1.0952 in the opening hours of the week. Immediately after this dip, price started to bounce up in what appears to be a classic fill-the-gap reaction. 
Now, despite the sharp rebound, we should maintain a bearish outlook for the EUR/USD. The rebound actually gives bears a better price to enter or add to their existing position. It is also a test of the breakout. 
As we begin the US session, the gap is almost completely filled. We should look for resistance in the 1.1135-1.1150 area, which represents the bottom of the previous consolidation range as well as the cluster of moving averages. It will also be challenged by a falling speedline. Meanwhile the RSI is approaching its common highs from last week. 
If resistance holds and price retreats back below 1.1050, we can confirm the bearish outlook. The 1.0952 level would be in sight, with risk of breaking. In this scenario, the 1.0818 support pivot seen in the daily chart would be in sight.
NOTE: It should be noted that this dip was mainly a euro-bearish story. The USD did not look strong across the board, but the euro did fall across the board.