On Feb 16, we issued an updated research report on Myriad Genetics, Inc. MYGN. The stock carries a Zacks Rank #3 (Hold).
This Salt Lake City, UT-based molecular diagnostics provider has been outperforming the broader industry over the past six months. The company has rallied 13.3%, against the industry's 1% decline. Myriad Genetics exited the second quarter of fiscal 2018 on a promising note. The company particularly observed strong growth in GeneSight testing revenues.
The company's molecular-diagnostics portfolio has been gaining prominence in the MedTech space of late. We are particularly upbeat about the newly-launched range of products. Myriad Genetics has been recording strong volumes of EndoPredict and GeneSight tests. In the Prolaris testing space, volumes continued to grow double-digits in the fiscal second quarter.
In particular, Myriad Genetics was focused on driving revenues by commercializing its innovative products, including Vectra DA, Prolaris, myPath Melanoma, Myriad Genetics's Companion Diagnostics, EndoPredict and myPlan Lung Cancer Test. Earlier, management expected each of the products to generate revenues of more than $50 million by fiscal 2020.
Moreover, Myriad Genetics has been consistently gaining reimbursement approvals. During the reported quarter, the company announced the finalization of LCD from Noridian for EndoPredict, thereby expanding the total coverage to around 90% of the U.S. market. Also, the Prolaris test is under evaluation for revised NCCN guidelines and has been covered by Medicare for patients at intermediate risk.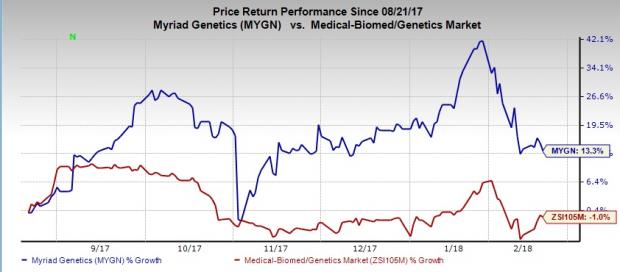 Also, in order to gain reimbursement coverage in Vectra DA and GeneSight testing platforms, the company has been undertaking certain measures.
Furthermore, the raised FY18 guidance instills confidence. We are upbeat about growth in new product volumes, an expanded reimbursement for new products and an increase in international RNA kit revenues.
Meanwhile, Myriad Genetics faces competition in the key BRACAnalysis market. The company expects competition to intensify owing to advancement of technology. We believe competitive headwinds might reduce prices of expensive tests provided by the company. This might impede margin improvement as well.
Moreover, as the company receives a considerable portion of its revenues and pays a portion of its expenses in foreign currencies, it is at risk of exchange rate fluctuations between foreign currencies and the U.S. dollar.
Key Picks
Some better-ranked stocks in the broader medical sector are PerkinElmer PKI, Bio-Rad Laboratories BIO and Becton, Dickinson and Company BDX.
Bio-Rad Laboratories has a Zacks Rank #2 (Buy). You can see the complete list of today's Zacks #1 Rank (Strong Buy) stocks here.The company has a long-term expected earnings growth rate of 25%.
PerkinElmer has a long-term expected earnings growth rate of 12.3%. The stock carries a Zacks Rank #2.
Becton, Dickinson and Company has a Zacks Rank #2. The company has a long-term expected earnings growth rate of 13.3%.
Breaking News: Cryptocurrencies Now Bigger than Visa

The total market cap of all cryptos recently surpassed $700 billion – more than a 3,800% increase in the previous 12 months. They're now bigger than Morgan Stanley, Goldman Sachs and even Visa! The new asset class may expand even more rapidly in 2018 as new investors continue pouring in and Wall Street becomes increasingly involved.

Zacks has just named 4 companies that enable investors to take advantage of the explosive growth of cryptocurrencies via the stock market.

Click here to access these stocks >>
Want the latest recommendations from Zacks Investment Research? Today, you can download 7 Best Stocks for the Next 30 Days.
Click to get this free report
PerkinElmer, Inc. (PKI): Free Stock Analysis Report
Bio-Rad Laboratories, Inc. (BIO): Free Stock Analysis Report
Myriad Genetics, Inc. (MYGN): Free Stock Analysis Report
Becton, Dickinson and Company (BDX): Free Stock Analysis Report
To read this article on Zacks.com click here.
Zacks Investment Research