More than a month has gone by since the last earnings report for Canadian Pacific Railway Limited CP. Shares have added about 1.8% in that time frame, outperforming the market.
Will the recent positive trend continue leading up to its next earnings release, or is CP due for a pullback? Before we dive into how investors and analysts have reacted as of late, let's take a quick look at the most recent earnings report in order to get a better handle on the important catalysts.
Fourth Quarter Earnings
Canadian Pacific's earnings (excluding $2.79 from non-recurring items) of $2.54 per share (C$3.22) were below the Zacks Consensus Estimate of $2.57. However, the bottom line improved 11.4% from the year-ago figure.

Quarterly revenues increased 10% year over year to $1,348.9 million (C$1,713) but fell short of the Zacks Consensus Estimate of $1,357.5 million. Freight revenues, which improved 4.4% year over year, accounted for bulk (97.3%) of the top line.

Notably, the company's freight segment consists of Grain (down 3%), Coal (up 1%), Potash (up 5%), Sulfur and Fertilizer (down 9%), Forest products (flat), Energy, Chemicals and Plastics (up 15%), Metals, Minerals and Consumer products (up 26%), Automotive (down 13%) and Intermodal (up 7%). In the reported quarter, total freight revenues per revenue ton miles (RTMs) were constant year over year. Also, freight revenues per car load remained unchanged year over year.

Operating income (on an adjusted basis) climbed 5% in the fourth quarter. Operating ratio (operating expenses as a percentage of revenues on an adjusted basis) came in at 56.1% compared with 56.2% a year ago.
2018 Forecast
While Canadian Pacific anticipates revenues to increase in mid-single digits for 2018, adjusted EPS is projected to rise in low double-digits. The company's predictions for 2018 adjusted EPS are on the basis of C$11.39 — the adjusted EPS achieved in 2017.

Furthermore, the company expects effective tax rate in 2018 to lie between 24.5% and 25%. With the company's continued investments in service, productivity and safety, it plans to invest $1.35-$1.5 billion in capital programs in the current year.

Liquidity

The company exited the final quarter of 2017 with cash and cash equivalents of C$338 million compared with C$164 million at the end of 2016. Long-term debt totaled C$7,413 million compared with C$8,659 million in December 2016.
How Have Estimates Been Moving Since Then?
It turns out, fresh estimates flatlined during the past month. There has been one revision higher for the current quarter compared to one lower. While looking back an additional 30 days, we can see upward momentum. There have been three moves up in the last two months.
Canadian Pacific Railway Limited Price and Consensus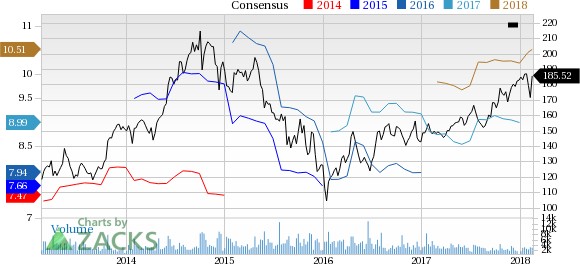 Canadian Pacific Railway Limited Price and Consensus | Canadian Pacific Railway Limited Quote
VGM Scores
At this time, CP has a subpar Growth Score of D, however its Momentum is doing a bit better with a C. Following the exact same course, the stock was also allocated a grade of C on the value side, putting it in the middle 20% for this investment strategy.
Overall, the stocks has an aggregate VGM Score of D. If you aren't focused on one strategy, this score is the one you should be interested in.
Zacks' style scores indicate that the company's stock is suitable for value and momentum investors.
Outlook
CP has a Zacks Rank #3 (Hold). We expect an in-line return from the stock in the next few months.
Want the latest recommendations from Zacks Investment Research? Today, you can download 7 Best Stocks for the Next 30 Days.
Click to get this free report
Canadian Pacific Railway Limited (CP): Free Stock Analysis Report
To read this article on Zacks.com click here.
Zacks Investment Research