Shares of Abercrombie & Fitch (ANF) are plummeting, falling to a new 52-week low and lowest since 2008. It looks like it might even break that 2008 low and head into lows not seen since 2000. Here's a fundamentalreport from Yahoo Finance:
Abercrombie & Fitch's both top and bottom-line have missed the Zacks Consensus Estimate in the last three concluded quarters. On Nov 18, 2016, the company reported dismal third-quarter fiscal 2016 results. Quarterly adjusted earnings per share of 2 cents significantly lagged the Zacks Consensus Estimate of 19 cents and declined 95.8% from the prior-year quarter earnings of 48 cents.

A soft sales performance due to traffic headwinds at its namesake U.S. flagship and tourist location stores was primarily responsible for the quarter's weakness. This was, however, mitigated by the sequential growth in Hollister brand along with solid direct-to-customer and omni-channel performance.

Following the dismal fiscal third quarter, the company expects comps to remain challenging in fourth-quarter fiscal 2016 compared to last year, while the same is anticipated to improve modestly on a sequential basis. Further, it expects foreign currency headwinds to hurt sales and operating income in the fiscal fourth quarter.

For fiscal fourth-quarter, the company expects adjusted gross margin to decline marginally from last year's rate of 60.7%, owing to a decline in average unit retail, offset by lower average unit cost.

Following bleak quarterly performance and a dull outlook, the Zacks Consensus Estimate has naturally witnessed a downtrend. Analysts polled by Zacks are now skeptical about the stock's future performance. In the past 30 days, the Zacks Consensus Estimate for the fourth quarter has declined 26.6% to 80 cents, while for fiscal 2016 it has moved down to a loss of 1 cent from a profit of 45 cents. Moreover, the company's Zacks Consensus Estimate has declined by 44 cents to 28 cents for fiscal 2017. (Full Article on Yahoo Finance)

Let's take a look at the technical picture:
ANF Daily Chart 12/19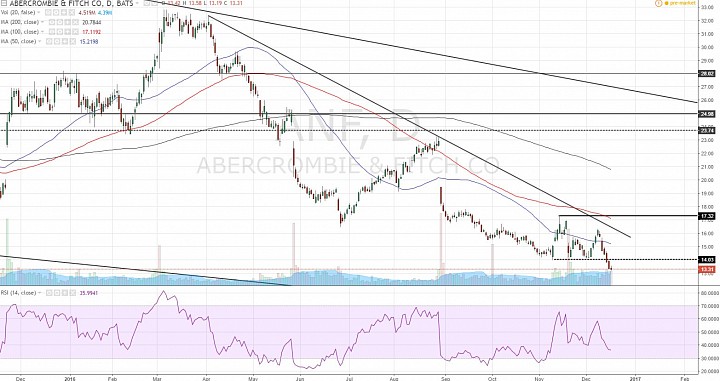 (click to enlarge)
Consolidation Breakout:
-First of all, ANF has been bearish throughout 2016. 
- In November, price found support above 14.00 and consolidated for about a month.
- After testing 14.00 several times, price finally broke below this support last week.
- Remember, the more times a support has been respected, the stronger the implication of the breakout. 
- The current breakout is indeed a strong bearish breakout signal. 

ANF Monthly Chart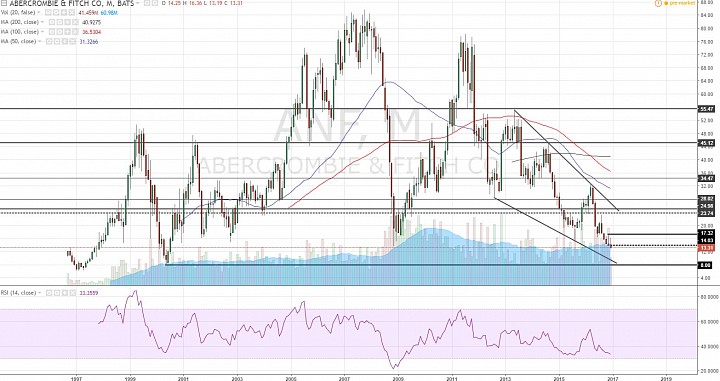 (click to enlarge)

2000-low at 8.00:
- As we can see on the monthly chart, price action is on a major bearish trend since 2011. 
- Last week's bearish continuation signal opens up the 8.00, 2000-low.
- I think if price does get to 8.00, we might want to consider buying around here, close to the historic low (6.25).
- If ANF survives, the reward to risk around 8.00 is decent, but the time needed to hold under it turns around is a major negative for this buy and hold strategy. In other words, it should not be a major position and tie up your account.