After opening the day in green, share markets in India witnessed choppy trading activity throughout the day and are presently trading flat. Sectoral indices are trading mixed with stocks in the banking sector and stocks in the PSU sector trading in red. While stocks in the realty sector are trading in green.
The BSE Sensex is up by 16 points (up 0.1%) and the NSE Nifty is trading up by 15 points (up 0.1%). Meanwhile, the BSE Mid Cap index is trading up by 0.6%, while the BSE Small Cap index is trading up by 0.7%. The rupee is trading at 64.20 to the US$.
In news from stocks in the telecom sector. Idea Cellular share price is in focus today after the company's board approved a qualified institutional placement (QIP) of its shares.
The company's board approved the issuance of equity shares worth up to Rs 35 billion by the way of a QIP to eligible investors.
This follows Idea's announcement earlier this year to grant an in-principle approval for issuance of further equity to the tune of Rs 35 billion.
At a meeting on 30 January, shareholders of the company had given their approval for a QIP of up to Rs 35 billion.
Meanwhile, the promoters of Idea Cellular-Birla TMT, Elaine Investments, Oriana Investments-have already invested Rs 32.5 billion to strengthen its balance sheet amid intense competition and before a planned merger with Vodafone India Ltd.
Following this equity infusion by Idea's promoters, their stake in India's third-largest telecom operator will rise to 47.2% from 42.4% now.
The proposed capital raising by Idea, the sale of its standalone towers to American Tower Corp. and the potential sale of its 11.15% stake in Indus Towers Ltd will augment the firm's long-term capital resources, Idea said in the statement on 4 January.
Companies in the debt-laden telecom sector have been witnessing a double whammy after the entry of Reliance Jio Infocomm Ltd which brought tariffs to rock-bottom and hit the revenue streams of other operators.
Telecom Sector: A decade of Underperformance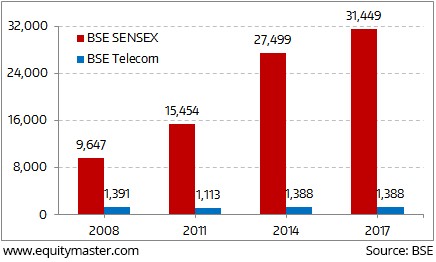 The whole telecom business has been an underwhelming story so far. While the telecom subscriber base has increased from 300 million in 2008 to 1.2 billion in 2017, investors have little to cheer. The BSE Sensex has gone up 3.25 times in nine years, but the BSE Telecom Index has not moved an inch from its levels of 2008.
Telecom companies are straddled with high debt, intense competition, and lack of pricing power. High spectrum costs and regulatory issues have hampered the sector. While consumers have benefited from low costs and new players fighting for their share, investors have suffered.
With the entry of Reliance Jio, the competition has intensified further. Reliance Jio's low-cost offerings and strategy of capturing market share will further dent the sector. The sector has been a classic 'valuet trap'. While it always looks cheap compared to other sectors, it has failed to provide any reasonable returns. We also believe the situation is unlikely to change in the near future. For an investor, it's important to differentiate between 'value' and 'value traps'.
Moving on to news from stocks in the steel sector. Tata Steel share price is in focus today after the steel major's rights issue opened today.
The company's Rs 128 billion worth rights issue opens today and closes on 28 February.
The entitlement ration for the fully-paid component is four shares for every 25 ordinary shares and two shares for every 25 shares in the partially-paid up component.
The company had fixed February 1 as the record date for the rights issue.
The issue will comprise up to 155.3 million fully paid-up ordinary share not exceeding Rs 80 billion" and 77.6 million fully paid-up ordinary share not exceeding Rs 48 billion.
At the time of writing, Tata Steel share price was trading up by 0.5%.
More