The EUR/USD has been bearish at least since May 2016, and is showing no signs yet of reversing this trend. The pair broke into new 52-week lows in December and signaled bearish continuation. In the short-term however, price has been consolidating in a range since the bearish breakout. Let's take a look at this consolidation structure.

EUR/USD 1H Chart 12/26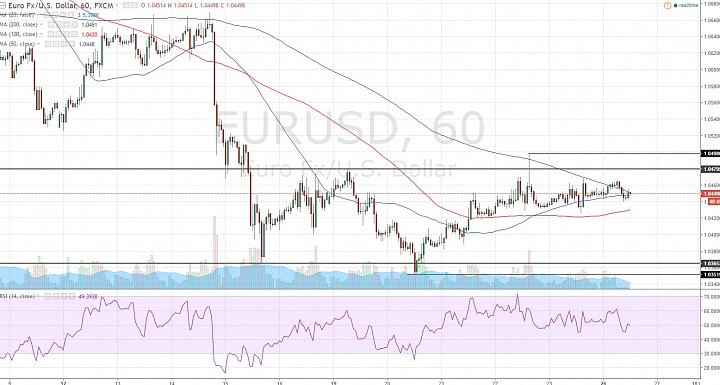 (click to enlarge)
Expanded Range: 
- Initially, price action found support at 1.0365 and resistance at 1.0480. 
- Then, price action expanded this range a little by falling to about 1.0350, before rebounding to a new high right under 1.05. 

Not Trusting Short-term Bullish Signals Yet:
- The 1H chart reflects a market that might be trying to form a price bottom.
- However, I don't trust the attempt to form a price bottom against the backdrop of a bearish market that made new lows only recently. 
- In fact, I think it is more prudent to sell a rally, or against key resistance factors. 

Bearish Outlook:
- The next time the RSI pushes near 70 and price back around 1.0480, I would consider shorting. 
- The reward and risk could be decent. A stop above 1.05 might present a risk of 35-40 pips while a target of 1.0370 provides a potential of about 100 pips. 
- Because the prevailing trend is bearish, There is potentially more downside risk, for example towards 1.03.