After retreating from a dizzying height of 1163 in 2014, bitcoin has retreated to 152.40 in 2015. As the daily chart shows, their was a strong push to that low in January. 

Bitcoin (BTCUSD) Daily Chart 7/6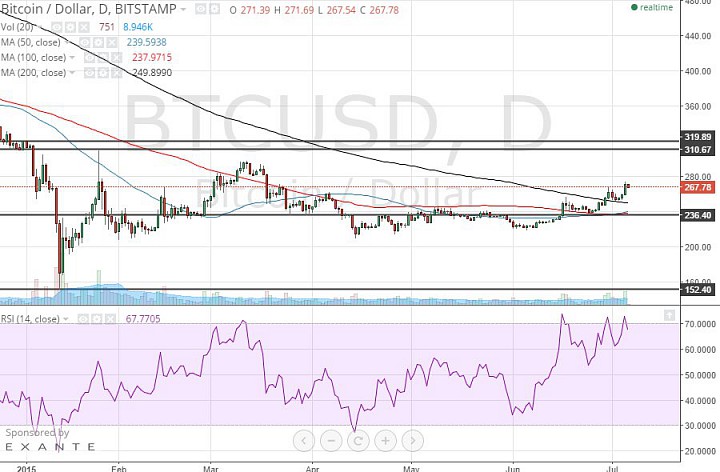 (click to enlarge)

That push in January looks more and more like an exhaustion push now that price has stabilized. In fact, the daily chart show that price has remained relatively quiet after establishing a range on the year in January between 320 and 152 .Here are a few more notes on the technical aspect of this virtual currency. 
1) Within the noted range, the 236 area represents the central pivot of price action. Indeed we saw price action stick towards this level. We can even call this the "fair price" for most of the year, especially since April.
2) The moving averages clustered together as a sign of congestion/consolidation.
3) The RSI has not shown any direction momentum, but is recently showing bullish momentum, since June. 
4) Price is starting to spring up from the central pivot and has broken above the 200-day SMA, a feat not accomplished since the decline in 2014. Now, if price can hold above the cluster of 200-, 100-, and 50-day SMAs, bitcoin would likely be in an uptrend. 

It might be premature to call an uptrend yet. But in the short to medium-term, price action appears poised to test the 310-320 highs on the year. There is a 3-pt bearish divergence between price and the daily RSI. If we do observe a significant pullback, let's watch the 235-236 area. If price can still hold above this central pivot area, then we should have more confidence of the bullish scenario to test the 2015-highs in the 310-320 area. 

Then, if price breaks above 320, we can start considering a bullish trend development. The 2015-price action would then have become a large price bottom for price to rally into 2016.