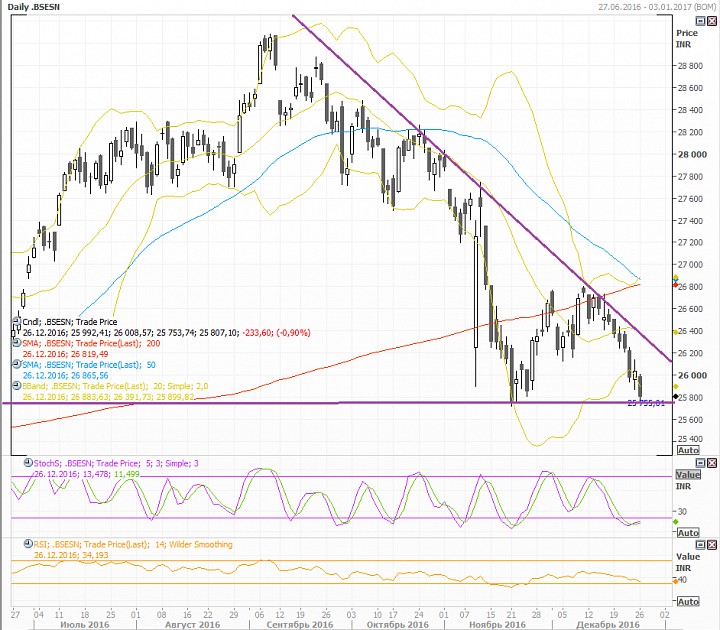 The Indian stock market showed negative performance on Monday, December 26 after some comments of Indian government officials raised concerns that tax burden on investors gains may increase.
Thus, Prime Minister Narendra Modi said on Saturday, that financial market participant must make a "fair contribution" to nation building. Later, however, Finance Minister Arun Jetley noted that the government did not plan to impose a tax on long-term investments in the stock market, though that was not enough to calm down the players and to reverse stocks to the upside.
On the BSE Sensex, all sectors ended in the red, with pharmaceuticals, automakers, banks, as well as metal&minig and real estate names underperforming the broader market.
The Nifty 50 eased 0.97% to 7,908.25, and the BSE Sensex closed 0.9% lower at 25,807.10.
By 11:20 GMT, the USD/INR pair slipped 0.18% to 67.725, and EUR/INR inched down 0.08% to 70.8736. The 10-year Indian government bond yield rose to 6.571%.
The NSE decliners were led by Hindalco, Cipla, Aurobindo Pharma, dropping 4.96%, 4.94% and 3.6%, respectively. On the upside, ITC and Hindustan Unilever added 1.25% and 0.11%, respectively.
As noted above, the day's top laggards included banking names. In particular, HDFC Bank and ICICI Bank slid 0.97% and 1.41%, respectively.
A falling triangle has been taking shape on the BSE Sensex daily chart. If the benchmark breaks through the lower band, further downside could be expected in the short term.