NZD/USD is showing 3 bearish technical signals. Let's take a look at them on the daily chart. 

NZD/USD Daily Chart 12/19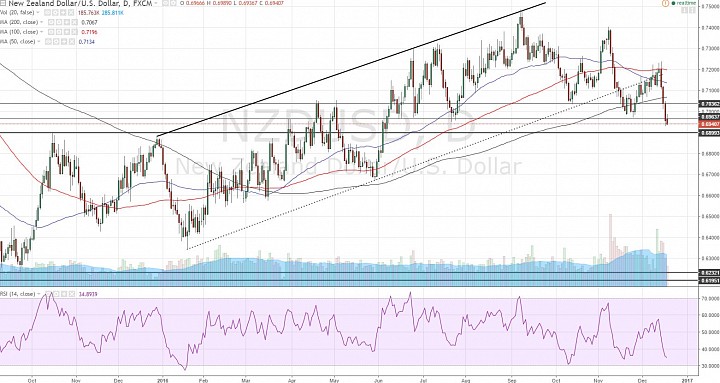 (click to enlarge)
Rounded Top:
- We can see a rounded top on the daily chart with a neckline around 0.6960.
- Last week, price fell sharply and broke this neckline, completing the rounded top and signaling further bearish correction against the 2016 bull run.

Bearish Breakout:
- Around mid-November, we already saw price break below a rising channel support.
- In December, price came up but respected the broken support as resistance, retreating after tagging 0.72.
- Price eventually broke the 200-day SMA as well. 
- The breakouts, and the hold under 0.72 all reflect a bearish market.

Slingshot:
- Note that when price came back up to 0.72 in December, it tested the 100- and 50-day SMAs.
- This time, price essentially respected these SMAs and held under them by the end of last week.
- If price rallies again but is held under the 200-day SMA, we could have another slingshot signal, which would further reinforce the bearish outlook.

With these bearish signals, I think we can anticipate an extension towards the 0.67 area. If price rallies, a bearish market should hold NZD/USD under 0.71, maybe even 0.70. A break above 0.71 concerns me, but can happen in a choppy bearish market. Of course a break above 0.72 at this point would put the bearish outlook on the shelf and essentially put NZD/USD into a sideways mode.