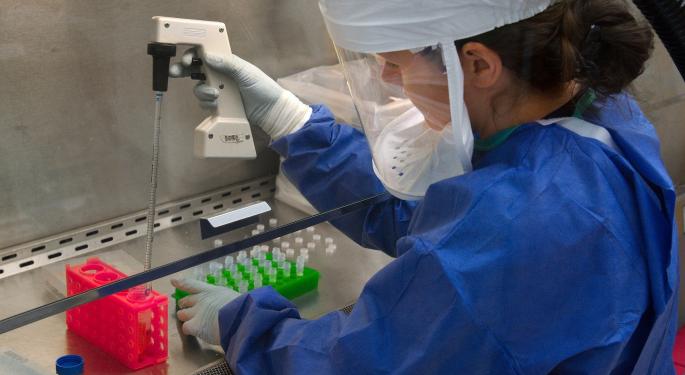 Merus NV MRUS 0.25% and Incyte Corporation INCY 1.45% announced a global strategic research collaboration agreement aimed at discovering and developing bispecific antibodies on Wednesday. Shares of Merus have spiked almost 45 percent since.
According to the contact, Incyte will pay Merus $120 million upfront and purchase 3.2 million shares of the company at $25 per share — $80 million in stock — to get exclusive rights to as many 11 of the latter's bispecific antibody research programs, including two preclinical immuno-oncology projects.
Following the announcement, Benzinga had a conversation with Merus CEO Ton Logtenberg and Chief Business Officer Hui Liu, who offered some insight into the company and the agreement.
Making A Difference
Benzinga asked about what might separate Merus' antibodies from the rest of the market or other treatments that could possibly be out there.
"First of all, the bispecifics that we develop have the natural IgG format, and that translates into dependable manufacturing and development, as well as predictable behavior in vivo, meaning half-life and low immunogenicity," Logtenberg explained. "So, that is sort of the core of the technology."
In addition, he continued, "I think what plays into the bispecific world is the ability to address two different targets. The best known application of this approach is the T-cell engager, in which [the] C3 [component] is addressed on a T-cell, and the other arm of the bispecific binds to a target expressed by tumor cells, and that redirects the T-cell to get activated and recognize the tumor cell resulting in a killing."
However, the chief executive supplemented, "Merus has gone beyond that, and based on our functional assays – that we very elaborately apply in our preclinical programs, we have found that targeting two different targets on the same tumor cell or tumor stem cell [...] that gives new biologies and modes of action that are very attractive, and that go above and beyond combinations of monoclonal antibodies."
"That is just one additional application," he assured. "Other applications are based on addressing two different targets that may be either on immunomodulatory cells and/or tumor cells and/or other players in the oncology space, and that indeed go beyond the T-cell engager approach.
"I think what Incyte has seen, and what Merus has been propagating as bispecifics, will yield products that are differentiated and have effective modes of action," he concluded.
Plans For 2017
Benzinga: With the Incyte deal closed and the cash in hand, what is Merus going to focus on going into 2017?
Logtenberg: First of all, 2017 is going to be an important year because we have milestones coming up that are relevant for the progression of our clinical programs, both 128 and 117. So, obviously for a company at our stage, those are important progressions that we would like to report on.
A second important element is that, with the cash available through this deal and with a new collaboration in place, we are going to update our investors and our shareholders on the strategic elements of our plan going forward; and, of course, that has shifted based on this new deal. We are looking forward to doing that.
Again, as we mentioned in the call, we are looking for partners that have exciting target pairs and biology that would fit our bispecific antibody platform to work with. So, we hope to continue those discussions and work with other parties as well and it's fair to say that this strategic deal with Incyte is, of course, very important to us, so we'll work with our new partners towards creating molecules that make a lot of sense in terms of being attractive for and relevant for treating cancer patients.
[...]
For the clinical programs, we have communicated that we are working towards interim results for 128 towards the end of the first quarter of 2017, and top line results for this HER2, HER3 program in the second half of 2017, for multiple tumor indications, as well as report in the second half of 2017 on the progress we're making in the AML program MCLA-117 with projected safety results, as well as hopefully some results on the efficacy of the compound.
Liked this interview? Check out our conversation with Sensus Healthcare Inc SRTS 4.45%'s CEO, who shared his prospects for the business under a Republican government.
Nick Donato contributed to this report.
© 2016 Benzinga.com. Benzinga does not provide investment advice. All rights reserved.