ITT Inc. ITT reported adjusted earnings of 64 cents per share in fourth-quarter 2017, comfortably beating the Zacks Consensus Estimate of 59 cents by 8.5%. Also, the reported figure was up 33.3% from the year-ago tally.
The impressive bottom-line performance is largely attributable to solid growth in sales as well as market growth strategies in key global end markets. Moreover, the company's initiatives to drive operational improvements proved conducive to this upside.
For full-year 2017, the company's adjusted earnings were up 12% to $2.59 per share. The figure also steered past the projected range of $2.50-$2.55. In fact, solid segment operating income growth from higher volumes and net productivity proved to be beneficial for the company, partially offset by higher incentive costs and adverse impact of foreign exchange.
Inside the Headlines
ITT's fourth-quarter revenues came in at $684 million, an increase of 16.3% on a year-over-year basis. Also, the metric surpassed the Zacks Consensus Estimate of $634 million.
Organic revenues increased 8% year over year, primarily driven by solid performance in transportation, oil and gas as well as in general industrial.
For 2017, the top line increased 7.5% to $2,585.3 million on high revenues from the Axtone acquisition as well as favorable impact of foreign exchange.
ITT Inc. Price, Consensus and EPS Surprise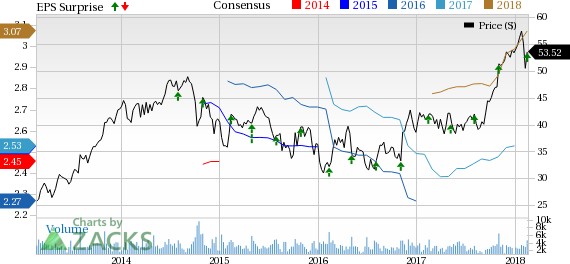 Segment wise, Industrial Process revenues recorded an increase of 9.7% year over year to $232.6 million with organic revenues up 8%. Increase in revenues came on the back of growth in short-cycle pumps, specifically in oil and gas and mining in Latin America as well as petrochemical in international markets.
Total revenues at the Connect and Control Technologies segment were up 3% to $153 million. Also, organic revenues were up 1% in the reported quarter. Stronger oil and gas connectors in North America and the Middle East as well as strength in heavy vehicle, electric vehicle and actuation components reflected well on the segment. Notably, the segment was formed by integrating the Interconnect Solutions and Control Technologies segments for streamlining operations, capitalizing on shared infrastructure and driving long-term growth in target markets.
Meanwhile, Motion Technologies revenues continued their strong momentum and surged 30.9% year over year to $298.5 million. Furthermore, organic revenues rose 13%. Additionally, significant share gains, impressive market growth in global OE automotive brake pads proved conducive to the top-line improvement. Strength in shock absorbers business as well as favorable effects from foreign exchange and Axtone acquisition supplemented to the sales of this segment as well.
The company's adjusted segment operating income advanced 30% year over year to $86 million, mainly driven by incremental margins on higher volumes, strong productivity as well as the restructuring benefits at Industrial Process and Connect and Control Technologies.
Liquidity and Cash Flow
As of Dec 31, 2017, the company had cash and cash equivalents of $389.8 million, down from $460.7 million in the year-ago quarter.
In the twelve-month period ended Dec 31, 2017, net cash from operating activities totaled $247.4 million compared with $240 million in the prior-year period.
Share Repurchase
In 2017, the company executed share repurchases of $30 million. Moving ahead, the company plans to target up to $50 million of share repurchases.
Guidance
Concurrent with the fourth-quarter 2017 results, ITT provided its guidance for 2018. Total revenues are expected to increase in the range of 5-8%. Adjusted EPS is projected to be in the band of $2.85-$3.15 per share, reflecting an increase of 16% at the $3.00 midpoint.
Our Take
ITT's diversified operations across key end markets, geographies and business cycles are the company's biggest strengths that help in combating weakness in a single market. Over the past few years, the company has been achieving operational excellence through its Lean Six Sigma program, restructuring initiatives and global sourcing efforts. Furthermore, the company's simplified operational framework will help unlock growth opportunities as well as drive long-term growth in the global aerospace and industrial markets.
However, sluggish growth in emerging markets such as China and Russia may weigh on this Zacks Rank #3 (Hold) company's profitability growth, going forward.
Stocks to Consider
A few better-ranked stocks in the same space include Federal Signal Corporation FSS, 3M Company MMM) and Hitachi Ltd. HTHIY. While Federal Signal sports a Zacks Rank #1 (Strong Buy), 3M Company and Hitachi carry a Zacks Rank #2 (Buy). You can see the complete list of today's Zacks #1 Rank stocks here.
Federal Signal has a decent earnings surprise history, surpassing estimates thrice in the trailing four quarters, with an average beat of 11.5%.
3M Company has a modest earnings surprise history, exceeding estimates thrice in the trailing four quarters, with an average beat of 3.2%.
Hitachi has posted an earnings beat in the trailing four quarters. It boasts an average beat of 43.9%.
Breaking News: Cryptocurrencies Now Bigger than Visa
The total market cap of all cryptos recently surpassed $700 billion – more than a 3,800% increase in the previous 12 months. They're now bigger than Morgan Stanley, Goldman Sachs and even Visa! The new asset class may expand even more rapidly in 2018 as new investors continue pouring in and Wall Street becomes increasingly involved.
Zacks has just named 4 companies that enable investors to take advantage of the explosive growth of cryptocurrencies via the stock market.
Click here to access these stocks. >>
Want the latest recommendations from Zacks Investment Research? Today, you can download 7 Best Stocks for the Next 30 Days.
Click to get this free report
3M Company (MMM): Free Stock Analysis Report
ITT Inc. (ITT): Free Stock Analysis Report
Federal Signal Corporation (FSS): Free Stock Analysis Report
Hitachi Ltd. (HTHIY): Free Stock Analysis Report
To read this article on Zacks.com click here.