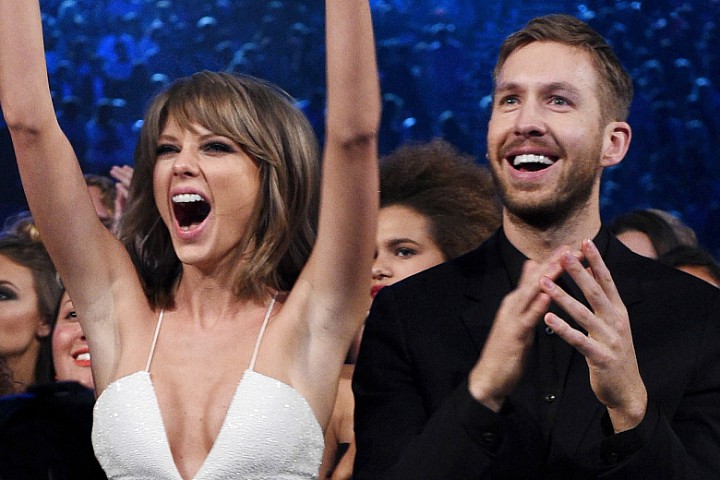 Ever since Forbes began publishing the "World's Highest-Paid Celebrity Couples" list in 2013, Queen Bey and Hov have topped the list. But the couple has finally been dethroned in 2015 by a younger and newer couple. Calculating the celebrities' earnings by annual income only, the top spot goes to Taylor Swift and Calvin Harris raking in a whopping $146 million USD. This couple has taken over Beyoncé and Jay Z, who comes in second this year with $110.5 million USD. Thirdly, by a long shot are Miranda Lambert and Blake Shelton, with $57 million USD.
Tay Tay and Calvin Harris may have just begun dating, but have quickly become a hot item in Hollywood. Aside from their music, a plethora of endorsements add to their income. Swift works with Diet Coke, Keds and Sony, while Harris is tied to Giorgio Armani and Sol Republic Headphones. Depending on whether they end up staying together, they definitely have a chance at being a longstanding fixture on this list.
Recently celebrating their seventh anniversary, Beyoncé and Jay Z co-headlined the 'On The Run Tour' which was the fifth highest grossing tour of 2014. Both are also padded with Jay Z's Roc Nation, Armand de Brignac champagne and D'Ussé cognac, while Bey has her perfumes, endorsements with Pepsi and H&M.
Lastly, country sweethearts Shelton and Lambert are arguably two of the genre's most iconic faces. Shelton has a staying place on The Voice in addition to long tour in 2014, while Lambert had a huge year winning multiple Academy of Country Music awards along with non-musical ventures such as Pink Pistol, Red55 Wine and Dixie Darlin.
Source: FORBES