After opening the day in green, share markets in India witnessed choppy trading activity and are presently trading flat. Sectoral indices are trading mixed with stocks in the pharma sector and stocks in the consumer durables sector trading in red. While stocks in the realty sector are trading in green.
The BSE Sensex is down by 25 points (down 0.1%) and the NSE Nifty is trading down by 4 points (down 0.1%). Meanwhile, the BSE Mid Cap index is trading up by 0.6%, while the BSE Small Cap index is trading up by 0.7%. The rupee is trading at 64.20 to the US$.
In news about the economy. In a major step, The Reserve Bank of India (RBI) has come out with new rules for dealing with bad loans.
Starting February 23, banks must immediately identify the defaults and make disclosures every Friday to the RBI credit registry.
The RBI, however, clarified these timelines do not apply to accounts where insolvency action has already been initiated at the insistence of the central bank.
In addition, the central bank withdrew a host of norms such as strategic debt restructuring (SDR) and scheme for sustainable structuring of stressed assets (S4A) among others and made the process time-bound.
The Joint Lenders' Forum (JLF) as an institutional mechanism for resolution of stressed accounts also stands discontinued.
The new rules stipulate that starting 1 March, lenders must implement a resolution plan within 180 days for accounts of at least Rs 20 billion.
All four restructuring schemes were available earlier when IBC (Insolvency and Bankruptcy Code) was not in place. The revised norms are a more transparent system for resolution.
Last year, the government had given more powers to the RBI to push banks to deal with non-performing assets (NPAs) or bad loans.
Gross NPAs of public sector and private sector banks as on September 30, 2017, were Rs 7,340 billion and Rs 1,029 billion respectively.
Disclaimer: Equitymaster Agora Research Private Limited (hereinafter referred as 'Equitymaster') is an independent equity research Company. Equitymaster is not an Investment Adviser. ...
While the government took some steps to ease the short-term pains of public sector banks, it was not an institutional change.
Loan Recovery Data of Major Economies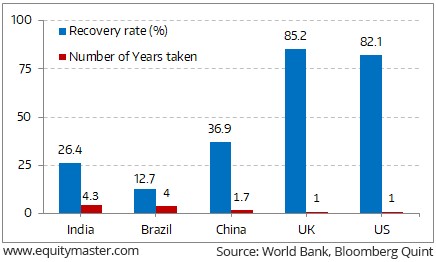 The government's move was mainly aimed at resolving the long-standing non-performing assets (NPA) problem of PSBs. It is expected to shore up the capital of state-run banks, spurring them to clean up the bad loan mess and revive lending.
But if historical data is anything to go by, implementation of such initiatives take a long time, especially in India. Recovery takes the longest time here as compared to other developed nations. India takes an average of 4.3 years to resolve insolvencies as compared to one year in the US. Also, recovery rates in India are amongst the lowest at 26.4%.
Although recapitalization will benefit PSBs, it appears to be a temporary cure for a recurring disease. The main problem is the lending and corporate governance processes these banks follow. If there is improves in these operational processes, PSBs will continue to underperform in the long term.
The current move by the RBI, if implemented well could help clean up the stressed banking sector.
Moving on to news from stocks in the banking sector. Punjab National Bank (PNB) share price is in focus today after the bank said that it had detected "fraudulent and unauthorized" transactions worth about US$ 1.8 billion at one of its branches in Mumbai.
India's third-largest public-sector bank added that the transactions were effected for the benefit of a select few account holders with their apparent connivance. Based on these transactions other banks appear to have advanced money to these customers abroad.
The bank did not name the people involved but said it had reported the deals to law enforcement agencies and would decide whether it faces any liability arising out of the transactions later.
It further said in the bank, these transactions are contingent in nature and liability arising out of these on the bank shall be decided based on the law and genuineness of underlying transactions.
The fraudulent transactions are the equivalent of eight times the lender's 2017 net income of about Rs 13.2 billion.
At the time of writing, PNB share price was trading down by 7.5% marking its steepest drop since October 2017.
Disclaimer: Equitymaster Agora Research Private Limited (hereinafter referred as 'Equitymaster') is an independent equity research Company. Equitymaster is not an Investment Adviser. ...
More