Asian stocks rose in morning trade on Monday, after the US's S&P 500 extended its winning streak on Friday to six days. Markets in the Greater China region remain closed for the Lunar New Year holiday. Japan's Nikkei 225 rose 1.13% in early trade, while the Topix index was up 1.2%. South Korea's Kospi index gained 0.87%.
Back home, India share markets opened the day marginally down. The BSE Sensex is trading lower by 37 points while the NSE Nifty is trading lower by 47 points. The BSE Mid Cap index and BSE Small Cap index opened the day down by 1.6% & 0.4% respectively.
All sectoral indices have opened the day in red with metal stocks and PSU stocks witnessing maximum selling pressure. The rupee is trading at 63.91 to the US$.
In the news from the steel sector. As per an article in a leading financial daily, Tata Steel has emerged a frontrunner to acquire debt-laden Bhushan Power and Steel after lenders to the company decided that they would only consider Tata Steel's offer of Rs 245 billion for further negotiations on Wednesday.
Reportedly, Tata and JSW steel were the only two bidders for the company.
Tata Steel's offer includes an upfront payment to lenders of Rs 170 billion, a cash infusion in the company of Rs 70 billion to meet working capital requirements and a payout to operational creditors as well as employees.
Further, Bhushan Power and Steel was admitted to bankruptcy court in June last year.
The unlisted Bhushan Power and Steel has a capacity to produce 3.2 million tonnes per anum of steel and also owns a 700-megawatt captive power plant.
Reportedly, Tata Steel will have to approach the anti-trust regulator Competition Commission of India (CCI) for approval post its offer being accepted by the bankruptcy court. An acquisition of both Bhushan Steel and Bhushan Power and Steel could give the company an almost 50% share of the market for flat-steel products in India.
Disclaimer: Equitymaster Agora Research Private Limited (hereinafter referred as 'Equitymaster') is an independent equity research Company. Equitymaster is not an Investment Adviser. ...
A consortium comprising over two dozen banks are owed Rs 485.2 billion by the debt-laden Bhushan Power and Steel. Punjab National Bank leads the lenders consortium though state Bank of India has disbursed the largest proportion of loans to the company.
Meanwhile, the Reserve Bank of India (RBI) has tightened the bad debt resolution framework by scrapping numerous loan restructuring programmes. This includes the likes of strategic debt restructuring scheme (SDR), Joint Lenders' Forum (JLF), Corporate Debt Restructuring Scheme, and Scheme for Sustainable Structuring of Stressed Assets (S4A) that's prevalent among banks to restructure defaulted loans. The RBI replaced all these schemes by the Insolvency & Bankruptcy Code (IBC).
With this, a loan worth over Rs 2.8 trillion, with payments outstanding for 60-90 days, carry the risk of slipping into the category of non-performing assets (NPA). This will result in a surge in NPAs and may put additional pressure on the banks to make provisions.
NPAs Set to Rise Further with New RBI Rules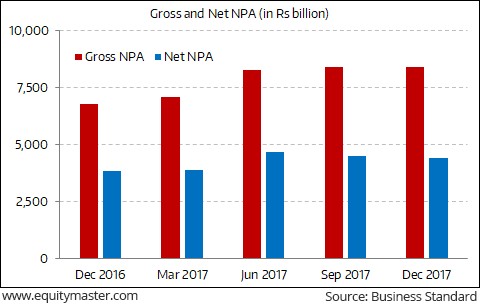 The strict timelines could mean that a larger number of accounts will go into insolvency. Haircuts that banks may need to take and the probability of liquidation in some accounts may also rise. Similarly, under the new scenario, corporate lenders, which have already been under pressure due to rising bad loans and increased provisions, could take another hit.
The new framework is expected to help with early recognition and resolution of bad loans. While this may be positive for the banking sector in the long run, in the short run, banks may come under additional pressure.
Tata steel share price opened the day down by 2.5%.
Moving on to the news from pharma sector. As per an article in a leading financial daily, the government has ordered a Serious Fraud Investigation Office (SFIO) probe against Fortis Healthcare and Religare Enterprises. Both the companies are at the centre of a controversy involving accusations of misconduct against their promoters Malvinder and Shivinder Singh.
Reportedly, the market regulator had ordered an inquiry against it and had asked it to furnish information and documents.
One shall note that, the Singh brothers had recently quit the boards of the two companies. The move came days after the Delhi high court ruled that the Rs 35 billion arbitration award that Daiichi Sankyo won against the billionaire brothers for concealing facts about erstwhile Ranbaxy Laboratories was enforceable in India.
Nearly a decade ago, the Singhs had sold their stake in Ranbaxy to the Japanese company, which subsequently exited from the venture.
The move came amid reports that the promoters had diverted funds from Fortis, a charge that has been denied. Fortis, which runs a chain of hospitals, has not declared results as auditor Deloitte has refused to sign them amid differences over accounting issues.
Fortis Healthcare share price & Religare Enterprises share price opened the day down by 1.8% & 1.2% respectively.
Disclaimer: Equitymaster Agora Research Private Limited (hereinafter referred as 'Equitymaster') is an independent equity research Company. Equitymaster is not an Investment Adviser. ...
More